UAE National Day Holiday
The UAE National Day holiday is celebrated every year on December 2. On this day, all seven Emirates become a single country and celebrate the national day with the spirit of union. On UAE National Day residents and visitors come together to celebrate with spectacular firework displays, ornate parades, and glittering festivities.
The official UAE National Day Holiday event is held yearly in Abu Dhabi at Zayed Sports City Stadium. The incredible event is full of daring acts, inspiring speeches, and aerobatic displays, all infused with a spirit of bravery and pride in the country. UAE National Day is a public holiday that unites friends and family for a day of reflection and enjoyment.
How to celebrate the UAE National Day Holiday:
In every Emirate, residents celebrate the national day traditionally. Cheers are raised as colorful floats adorned with monuments and pictures of Sheikh Zayed make their way along the shoreline during vibrant carnivals. Beaches frequently serve as temporary outdoor galleries for sand sculptures. Locals gather in the streets to see fireworks light up towns throughout the Emirates to cap off a day of revelry.
Leading up to UAE National Day, you notice that everything is covered in the national flag's colors, from people and cars to roads and residences. Flags fly from the top of national landmarks, and every part of Emirati life is adorned in shades of red, white, black, and green. UAE National Day is a public holiday when families and friends join together for reflection and celebration.
Read Also: Where to watch fireworks in Dubai
Massive Fireworks Celebration on National Day:
La Mer Dubai Beach is the location that organizes a massive fireworks display. The La Mer, Jumeirah 1 exhibition also features live performances by well-known Arab celebrities. like Abdul Wahed and Fouad Mohamed Al Shehhi. The program usually begins at 9 p.m. and the event continues for almost 1st week of December. The fireworks display at La Mer Beach is amazing and people come to see it joyfully.
Al Seef near Dubai Creek:
Al Seef is an adorable location to watch the fireworks in celebration. To watch the fireworks, which will begin at 8:30 PM on Friday and Saturday near Dubai Creek, get to Al Seef as early as possible. Al Seef is located on the well-known ancient stream in Dubai. You can de-stress and unwind with your friends and family at this tranquil, family-friendly location.
Stop by the promenade at The Galleria Al Maryah Island in Abu Dhabi on December 2 and 3 at 9 p.m. to see an amazing fireworks spectacular that is themed on the four colors of the UAE flag. You may enjoy a meal and watch the entertainment along the waterfront promenade of the mall, which surrounds a variety of cafes and restaurants, including Bentley Kitchen and Nusret.
Enjoy Dubai's Dancing Fountains and the Burj Khalifa:
The performance of the water dancing fountain will feature the playing of the UAE National Anthem. On National Day, the Burj Khalifa, the world's tallest building, will be decorated with a unique LED display show inspired by the UAE national flag. The organizers have scheduled these incredible free performances for December 2nd at 6 p.m., 7 p.m., and 8 p.m.
Live Performances at the National Exhibition Centre in Abu Dhabi:
Live events are scheduled to take place at the Abu Dhabi National Exhibition Centre from December 3–11. You can purchase AED 200 tickets for any of the nine shows on the official National Day website. Every day at 6 p.m., the shows will start during the festivities.
"The show will be open for everyone who calls the UAE home to experience the 51st National Day official public shows for nine consecutive days," the UAE National Day website said. Live broadcasts of the ceremony will also be available on all local TV networks and the official UAE National Day website.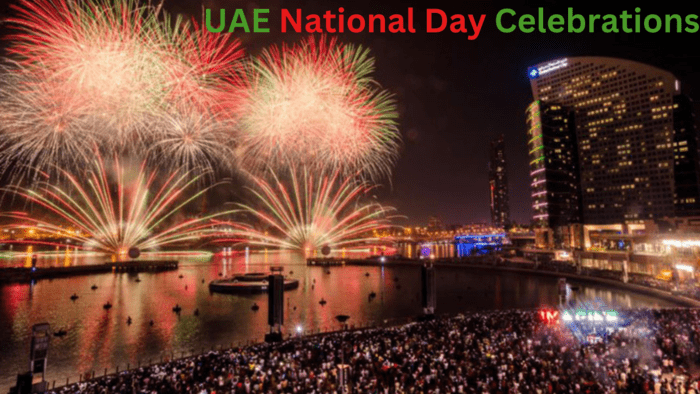 Go to the Dubai Miracle Garden:
There is no better place to spend National Day vacation than the world's largest natural garden, Dubai Miracle Garden. It is a fantastical paradise brimming with the most exquisite and vibrant flower arrangements. They take nearly every pattern and design; they see a huge 380 Airbus, a life-size floating lady, and a picturesque hilltop covered with flowers of all shapes and sizes.
Enjoy Lucky Ali's Winter Music Fest performance:
Enjoy some fantastic entertainment alternatives throughout the national holiday weekend. The greatest pop star of the 1990s, Lucky Ali, will be performing live at the Agenda on December 3, 2023. Don't miss Winter Music Fest: Lucky Ali. This musical mastermind will enchant you with his unique soothing voice and timeless hits, bringing you back to simpler times.
Take a ride on the Dubai Cruise:
With a mouthwatering buffet meal, live entertainment, and an incredible front-row view of the city skyline from the ocean, it lets you take part in one of the biggest celebrations in the UAE. You can choose from a variety of cruise alternatives, such as the opulent Lotus Mega Yacht trip, the classic dhow cruise, or a wonderful bottomless weekend brunch. All of them promise you the most memorable experiences on Dubai's waterways.
Also Read: Outdoor Party Venues in Dubai
Participate in Enjoyable Events at Global Village Dubai:
Without leaving Dubai, visit Global Village Dubai to discover a variety of cultures, customs, and delectable international cuisines. This multicultural, outdoor space is most enjoyable on holidays, particularly National Day. Be ready to enjoy the unique National Day fireworks display, cultural exhibits, and live entertainment.
Spend your time walking through Expo City Dubai:
Expo City Dubai is a great destination to visit if you are deciding to spend the holiday cheerfully. You can get food from one of the food trucks and enjoy the Al Wasl light show. Expo City Dubai is free to enter, although there is a charge to enter some of the attractions inside it. Each pavilion costs Dhs50 for entry, and the pavilions are open every day from 10 a.m. to 6 p.m. Garden in the Sky tickets cost Dhs30 per person.
Hiking in Hatta Dam:
Walking in the Hajar mountains in December along the Hatta Dam is a terrific way to enjoy the beautiful weather. The Hatta sign, which set a Guinness World Record in September 2023, is something you shouldn't miss. With a height of 19.28 meters, it is the tallest landmark sign in the world (the Hollywood sign is 13.71 meters tall). It's also great because entry is free as well. That's a great option to spend the National Day holiday making it memorable. If you haven't visited it yet, then plan to visit it on this national day holiday because it will definitely make your day memorable.
For more information, an entire listing of UAE public holidays for 2023: 
New Year's Day: January first

April 20, 21, 22, and 23 are celebrated as Eid ul Fitr.

Arafat Day is on June 27, 2023.

Dates of Eid al Adha: June 28, 29, 30, 2023.

Muslim New Islamic Year is on July 19, 2023.

Birthday of the Prophet Muhammad (PBUH): September 27; September 29 is a holiday

December 1st is the day of commemoration.

December 2, and 3 are the UAE National Day holidays.
As part of the UAE National Day holidays, public and private organizations host events that promote the UAE's rich cultural diversity and advancement as a modern nation. So, are you awaiting this wonderful day with excitement? You will now have figured out where to commemorate the National Day of the UAE.