Dubai Creek Harbour is a stunning waterfront development situated along the banks of Dubai Creek. It offers a beautiful blend of modern living and natural beauty. Dubai Creek Harbour's viewing point is a beautiful new destination to see some of the city's most breathtaking vistas. You can find the arch in Creek Harbour, a great place to take pictures of the Dubai skyline.
It has two graceful towers that rise to 40 and 20 stories, respectively. The 20-story tower will provide a pleasant, different low-rise backdrop to the high rises and bring you closer to the water's edge, which will be the tower's main appeal once it is finished. These towers, which have sweeping views of the promenade, are just five minutes walk from the Creek Marina.
The architecture of Dubai Creek Harbour:
When the project comes to an end, it's expected to break all existing records for building construction height. Everyone will be amazed by the variety of geometric lines and shapes used in Dubai Creek Harbour's architectural designs. While the area is home to many modern high-rise apartment and office buildings, there are also many charming residences with views of the bay or golf course and private gardens. The above sort of reverberation is the main characteristic of Dubai Creek Harbour.
How to reach Dubai Creek Harbour's location?
There are several modes of transportation that can be used to reach Dubai Creek Harbour:
Dubai Metro:
Head towards Creek on the Green Line of the Dubai Metro. At the Metro Station in Dubai Healthcare City, get off. It will take you about ten to fifteen minutes by taxi to get to Dubai Creek Harbour from the exit.
Also Read: How to go to Jumeirah Beach by Metro?
Bus:
Routes 53 and X64 make stops close to Dubai Creek Harbour. At Waha Community Centre 1, both lines come to an end. You can walk to the harbour from here in about half an hour. Alternatively, you may take a quick cab ride.
Experience Life in Dubai Creek Harbour on regular days:
Dubai Creek Harbour is a popular tourist location with lots of entertainment alternatives. A vast, elegantly constructed park, tennis courts, five-star hotels, a plethora of exquisitely designed stores and eateries, cafes, movie theatres, and museums, adding a few.
You may enjoy trouble-free shopping because Dubai Creek Harbour will house the world's largest mall. Being a member of plenty of yacht clubs can only satisfy those who enjoy taking boat voyages. Golf players can play against one another on the exquisite 18-hole course.
Tourist attractions near the Dubai Creek Harbour
In regards to the collection of astounding architectural artifacts, Dubai has exceeded many other cities worldwide. One of these is the Dubai Creek Tower, which has the capability to become the area's and the emirate's main tourist attraction. With its 360-degree viewing platforms, restaurants, vertical gardens, and luxury hotel, the tower smashes all previous records for height in the world. It will rise 100 meters higher than the iconic Burj Khalifa.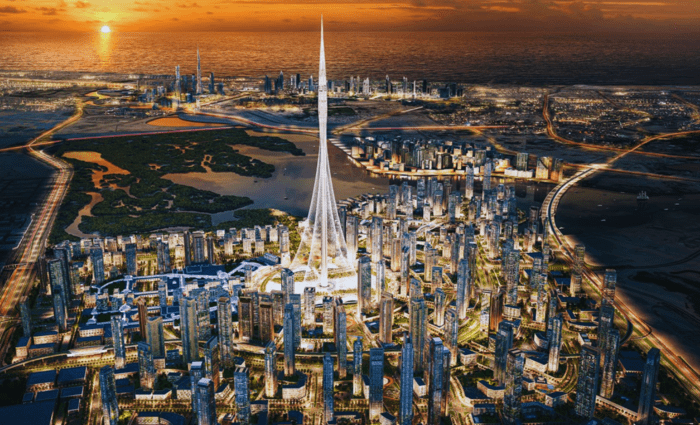 Dubai Frame:
Dubai Frame is a location in Dubai Creek Harbour that is worth seeing. Residents and visitors to Dubai enjoy viewing the magnificent view of the ancient and new city from this tall glass sky bridge. It provides a distinctive perspective whether you stay there during the day, at dusk, or at night.
The Dubai Museum:
The Dubai Museum, which is housed in a medieval fort and provides an intriguing look into the history and culture of the city, is one of the several museums located in the Dubai Creekside neighborhood. There are also specific instances of traditional Arabian architecture in the area, such as wind towers and small walkways.
Visit Dubai Gold Souk:
The Dubai Gold Souk provides a variety of upscale retail encounters. Located in a former fort, the Dubai Museum provides information on the history and culture of the city. Arabian building in the traditional style, with wind towers and little lanes. Dubai Creek provides a variety of boat excursions and abra activities in addition to breathtaking views of the skyline. A variety of spices and traditional Arabian products are available at the Spice Souk.
Dubai Creek Harbour Restaurants:
Consuming food is an obligatory aspect of life. For those who are staying here, Mondoux, Soul Green, The Courtyard, and Stage 2 are Dubai Creek Harbour Restaurants to unwind your taste buds every day. For those who are just touring, there are also plenty of other options. Prepare your appetite and utensils for some mouthwatering meals.
Something Extra Enjoyable:
You may find plenty of enjoyable activities in and around the community that give you an extra reason to make people laugh. Dubai Creek Park, a family-friendly attraction in Umm Hurair, Creek Marina, where you can take in the numerous buzzing colonies, and much more are available to provide every age with something extra to enjoy. There will never be a boring minute spent here.
Also, you'll explore some more exciting things;
Beautiful Skyline view for taking photos:
People travel to the attraction to get the perfect images, and the new walkway is trending on Instagram. This season's weather enhances the destination's appeal even further.
Appealing unique design:
To create a long-lasting impact and unique overall appearance of this truly unique architectural element, painted steel was used in the bridge's design and construction. Residents as well as tourists can enjoy the free viewing point at Dubai Creek Harbour now that it is open.
Upcoming Emaar Properties mega-city project in Dubai: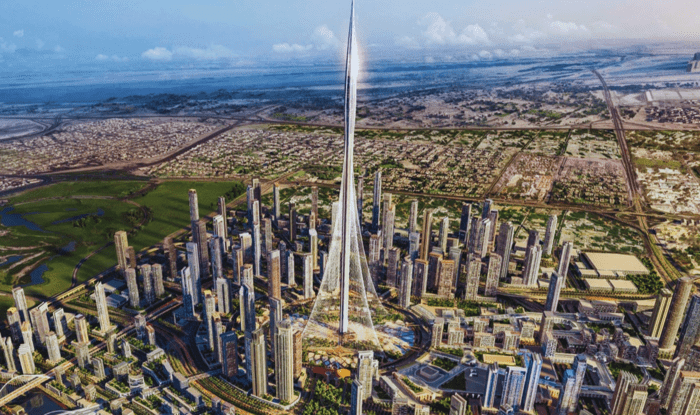 Dubai is planning to build a new megacity extending six million square meters near The Lagoons, called Dubai Creek Harbour. The first phase, the six-tower residential complex Dubai Creek Residences, is already under construction. It should have fantastic views of Dubai Creek and the city skyline.
The property is located close to the flamingo-famous Ras Al Khor Wildlife Refuge and is marketed under the tagline "Discover life at the source." Emaar Properties and Dubai Holding, a government-owned real estate developer, are partners in the endeavor.
An integrated lifestyle is ensured by the mega community. With its independent sense of community, this renowned location provides a vibrant experience. While 700,000 square meters are set aside for parks and open spaces, the Island District is dwelling to 200,000 people.
There are enough boulevards, walkways, and highways in this massive city. There are metro stations as well, making it simple for locals to commute to other places. A modern fitness center, temperature-controlled swimming pool, and sports facilities are among the shared amenities of this self-integrated mixed-use property.
Recommended: Rolla Mall Sharjah
Accommodation near Dubai Creek Harbour: 
One of Dubai Creek Harbour's most luxurious residential neighborhoods, the Island District is close to completion and consists mostly of vertical dwellings. Many skyscrapers may be found in the residential area by the waterfront, including:
Grove Creek Beach

Dubai Creek Residences

Creek Edge

Lotus

Creekside 18

Harbour Views.
Apartments in Dubai Creek Harbour range in size from one to four bedrooms and offer views of the city skyline and beach. The long-awaited residential front features townhouses with three to four bedrooms in addition to the vertical neighborhoods.
Final Words:
Emirates' unwavering commitment to innovation, quality, and sustainable development is embodied in Dubai Creek Harbour. It can be considered a model of urban living for the future because of its brilliant master plan, breathtaking architecture, and dedication to sustainability. The development's commitment to building vibrant communities, encouraging cultural enrichment, and stimulating economic progress confirms its standing as a force that is fundamentally changing Dubai.