Bungee jumping Dubai offers an unforgettable experience to thrill and adventure seekers. It involves jumping from a platform with tightly and securely attached bungee cords. During free fall, one feels very excited to see the city in this position. Dubai is a fascinating combination of artificial miracles and natural wonders, one of the seven Emirates that make up the United Arab Emirates. It has an extremely enticing oil reserve, modern infrastructure, a thriving economy, and a thriving hospitality sector.
Over 16 million people visit Dubai annually, the majority of them are there for either tourism or business. In the late 1990s, it was a desert; in the 21st century, it has become an engineering marvel. The city is encircled by skyscrapers and a rich Arabian heritage.
With amazing panoramas, as you go down to the ground, bungee jumping in Dubai offers a singular perspective of the city's skyline. You'll get a rush of adrenaline and enduring memories from this journey.
Get to know about bungee jumping Dubai:
In Dubai, both residents and visitors agree that bungee jumping is one of the most enjoyed activities. Enjoyed to the fullest, the activity is planned at several locations throughout the city. Before you ultimately decide to leap, there are a few things you should know about how to do. Not everyone is up for Bungee Jumping, one of the most frightening recreational activities. Your excitement will surge like never before when you jump from a huge height and rely solely on an elastic cable for support. If you're attempting this exhilaratingly thrilling sport, don't worry you'll always be well supervised by an expert and your harness will be handled with extreme caution.
Professional photographers and video makers are also available at Gravity Zone, using their cameras to capture moments that will live in your memory forever as a result of this fearless trip. For photographs or films that you spending, you can also choose to have the Burj Khalifa or the skyline of Dubai as the background as well.
What's the best time to enjoy bungee jumping?
August and later is a perfect time of month to take your vacation in Dubai. The sweltering summer months of April through June are scorching, yet these are moderate temperatures. Due to the Dubai shopping festival, January and February see a lot of traffic, so plan your travel appropriately.
Top Best Bungee Jumping Companies in Dubai:
Bungee jumping – Gravity Zone:
Gravity Zone is a designed structure that provides an adrenaline bungee jumping experience. Safety measures, including strong belts and trained personnel, are in place for making sure a fun and safe journey. The free fall experience is heart-pounding, and the jump is made from about 50 meters in the air. To participate, one must weigh at least 40 kilos and be at least 14 years old.
When visiting Dubai, it is a must to go skydiving amidst the city's high-rise buildings. As you free fall to the vista of the Burj Khalifa and the stunning Dubai shoreline, take in the breathtaking perspective of the cityscape of Dubai. When leaping from the lofty crane, the experts make sure that everyone is secure by fastening bungee elastic ropes to your body. This adventurous entertainment can be enjoyed twice as much whether you jump alone or in a group of two with friends and family!
Location: The Power Play Football Center is located at 57H3+P29, Meydan Road, Dubai, United Arab Emirates.
Given Hours: 6:00 PM to 10:00 AM
Bungee Jumping – Ain Dubai:
Ain Dubai brings an exciting opportunity for bungee jumping from a height of about 250 meters. One of the tallest bungee leaps in the world, it offers a unique and exhilarating experience. For the experience, there will be qualified instructors and top-notch safety equipment available. A deeper look at the launch will reveal the age and weight requirements for participants. A breathtaking view of Dubai's skyline, the Arabian Gulf, and the nearby islands can be had from the bungee leap.
Location: Dubai's Bluewaters Island
Given Hours: from 10:00 A.M. to 10:00 P.M.
Bungee Jumping – Jumeirah Beach Hotel: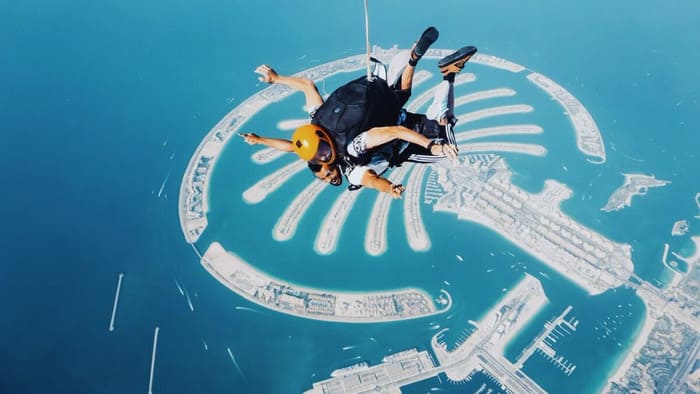 Bungee jumping is available at the Jumeirah Beach Hotel on an exclusive landing strip near the hotel. The jump, which happens from a height of about 50 meters, offers breathtaking vistas of the Arabian Gulf in addition to an adrenaline rush. Safety gear and qualified personnel are supplied to guarantee an exciting and safe tour. The required minimum age and weight must be met by the participants.
Location: Dubai – United Arab Emirates – Jumeirah St – Umm Suqeim – Umm Suqeim 3.
Given Hours: 6:00 PM to 10:00 AM.
People who are experienced for the first time:
In Dubai, bungee jumping is a whole experience that involves more than simply the leap. This is exactly what the experience should provide for you:
Getting ready:
You will receive a safety briefing before the jump, and knowledgeable instructors will properly fasten your harness. Safety comes first, and every piece of equipment is inspected carefully.
Jump:
While stepping towards the edge of the platform, the heartbeat increases, and adrenaline shoots. Then the countdown begins and you prepare yourself for this adventure that you are going to experience in the next few seconds. Then you're off the edge and falling toward the ground with a leap makes you feel like you are flying.
View:
Viewing the city from this position astounds the thrill seekers. The amazing views of the city from the top look breathtaking. Initially, the view may look blurred but as soon as you descend the view looks clear. The tall buildings, bustling streets, and vibrant environment heighten the sense of awe.
Memorable Experience:
In Dubai, if you go for bungee jumping, it would definitely be an unforgettable experience of your life. The thrilling adventure will stay in your memory lifetime. It is an indicator of checking one's strength, and confidence, and helps to overcome the fear of heights.
Also Read: Rolla Mall Sharjah
Guidelines For Bungee Jumping That Everyone Must Know:
Read all safety instructions carefully. Ensure you understand them, and sign the required waiver forms before you jump. Put on comfortable attire and shoes. Don't bring any valuables with you or store them in the Gravity Zone locker. In case you're seeking an exhilarating experience in Dubai, Gravity Zone's bungee jumping is an excellent choice.
For safety, try to select a reliable operator.

Make sure the equipment is reliable.

Observe all guidelines keenly.

Remain optimistic and overcome your fear.

Put on secure, comfortable clothing.

Double-check the connections and harness before jumping.

Maintain a straight posture when you jump.

Watch out for the excitement!

Enjoy the breathtaking plummet.

Relax and cheers for the amazing picture.
Take part in the UAE bungee jumping contest:
The UAE Bungee Federation is expected to be established, and bungee jumping will be added to the list of competitive sports in the area, according to the organizers of the competition that will take place in Dubai every Friday.
The Dubai Sports Council approves the leap of faith for individuals who think they have what it takes to literally jump from a cliff with a rope tied to their ankle. The sport is not for the timid. Before leaping off 50-meter-high cranes, participants will receive a technical and safety briefing from the organizers.
Click to learn about the popular traditional sports in UAE.
Considering that it is a free-fall jump, a panel of judges will evaluate the jumps according to four criteria: the length of time it takes to exit the edge, the distance the jump must go forward, the consistency of the body movements made throughout the jump, and the style of the jump. The bravery, confidence, and body language of the jumpers are assessed by the judges.
The top two male and female jumpers, as well as the best team, leap three participants, will be declared as the winners and will be awarded prizes.
Conclusion:
You will be delighted to have the chance to experience bungee jumping in Dubai. You should try this at least once in your life. Bungee jumping can indeed provide thrill-seekers with an unforgettable and thrilling experience. It is mandatory to evaluate the risks and take all the safety measures before participation.
Read to know: Al Nahda Park Sharjah
Finally, it would not be wrong to say that you will be delighted to have the chance to experience bungee jumping in Dubai with complete enjoyment. Try this at least once in your life, we highly recommend it!