Jumeirah Beach Dubai is a man-made beach built in Dubai. This enchanting and captivating beach is globally popular and is one of the most visited tourist attractions in Dubai. One of Dubai's premier food festivals takes place on Jumeirah Beach every year. This festival exhibits a wide range of international cuisines. Here, we explain the route to Jumeirah Beach via the Metro.
This blog will provide an in-depth travel guide to Dubai's Jumeirah Beach. This guide will encompass everything from the best routes to various activities to engage in. So, let's proceed!
Arriving location Jumeirah Beach: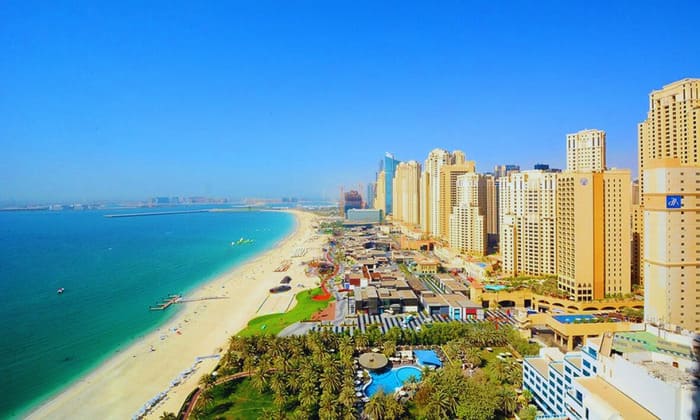 Jumeirah Beach is located on Dubai's coast in the United Arab Emirates. From the Burj Al Arab to the Jumeirah Open Beach, it is around a 5-kilometer coastline. It is also close to other prominent tourist attractions like Dubai Marina, Burj Khalifa, and Palm Jumeirah. For tourists who want to visit the popular spots in Dubai, Jumeirah Beach is at the top of the list.
How to go to Jumeirah Beach by Metro?
Want to go to Jumeirah Beach by metro, follow the route. Use the red line to travel to Sobha Realty or DMCC metro station on the Dubai Metro, then board the Dubai Tram to get to Jumeirah Beach Residence. You have a choice of two stops along the tram's route, depending on where in the neighborhood you choose to go, and it will take you all the way to JBR.
List of Dubai Metro Station (Tram Station):
Tram Station 1 – Jumeirah Beach Residence

Tram Station 2 – Jumeirah Beach Residence

Jumeirah Lakes Tower

Dubai Marina Mall

Tram Station – Dubai Marina

Tram Station – Marina Tower

Tram Station – Mina Seyahi

Media City

Palm Jumeirah

Tram Station – Al Sufouh
Best Routes to go to Jumeirah Beach by Metro: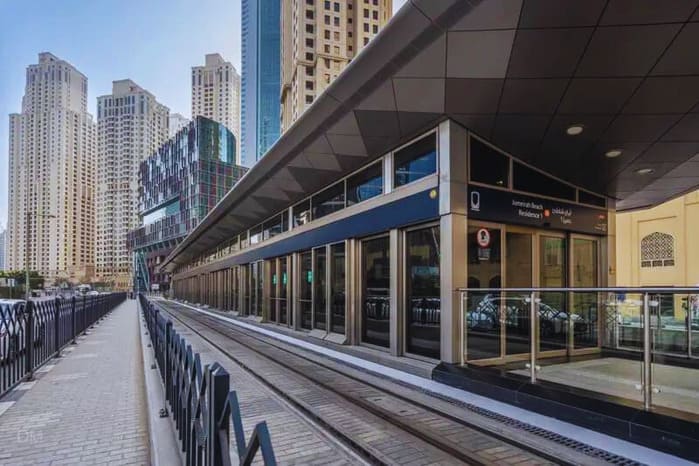 DMCC – Red Line Dubai Metro Station
If you're conveniently using public transport, the best route to catch the Dubai metro and off to Dubai Marina No. 23 metro stop or No. 24 Jumeirah Lake Towers. A few walking distances to travel to JBR Beach will take 10 to 15 minutes, also you can travel with Dubai Tram.
Deira City Centre Metro Station to Jumeirah Beach:
Locate the road path from the Deira City Center Metro Station to the five-mile-distance Jumeirah Beach. If you've tried long-distance driving? No need to be worried! It takes roughly 7 minutes to travel to Jumeirah Beach from Deira City Center Metro Station. You may simply go to Jumeirah Beach from the Deira City Center Metro Station. Before leaving, make sure to check the departure time from Deira City Center Metro Station to Jumeirah Beach.
How to pay Dubai Metro fare:
Dubai metro fare is paid only by NOL card which is a smart card through which payment can be easily made by one scan. No other payment method is available for metro rides. The NOL card can be used to travel on the Dubai Metro, Buses, Tram, and water transportation options like Water Buses.
Here are four types of smart cards available for traveling in the Dubai metro.
Red Card:
The red card is usually recommended for short visits.
Its price is AED 4.
Silver Card:
The card costs 25 AED and comes with a 19 AED credit.
Its price is AED 3.
Gold Card:
The same as the silver card, but twice as expensive per trip.
Its price is AED 6.
Blue Card:
This is only recommended for those who live in Dubai or who have long-term employment plans there.
Price AED 3.
Read to know: How to pay for parking in Dubai via apps and card
Must enjoy these activities at Jumeirah Beach: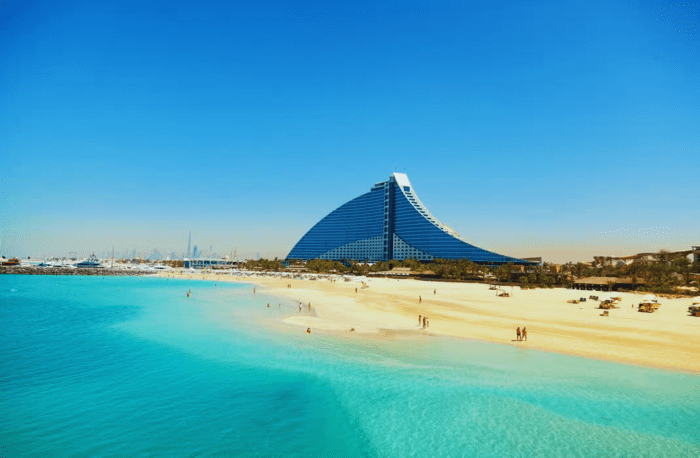 You can stroll along the beach to enjoy the breathtaking scenery. You can find many eateries, cafes, and shops around Jumeirah Beach that help to spend a whole day there comfortably. There are also numerous nearby hotels that suit different budgets.
White sand and crystal-clear waters enhance the enjoyment of the leisurely day. Swimming, jet skiing, parasailing, boat tours, sunbathing, and kayaking are some activities to entertain tourists here. Jumeirah Beach is your best option if you want a wonderful beach experience in Dubai.
Swimming:
In Dubai, Jumeirah Beach is an amazing location for taking a dip. Tourists are welcome to swim here, the water is perfect for swimming because it is warm and transparent. Even though the beach is accessible to everyone, certain portions are allowed only for swimming. To ensure a safe and pleasurable experience for everyone, it's also critical to adhere to any posted signs and rules but they should be cautious of the lifesaver flags that mark the shorelines as safe swimming zones.
Enjoy Snacks while walking
During taking part in the walk, your love for fast food comes to an end. Your walk wraps a significant distance and features some amazing international cuisines. If you love street cuisine, it is well worth the crowds to visit this area. Local cuisines are available, plus there are a lot of French and Chinese food stalls near the shoreline.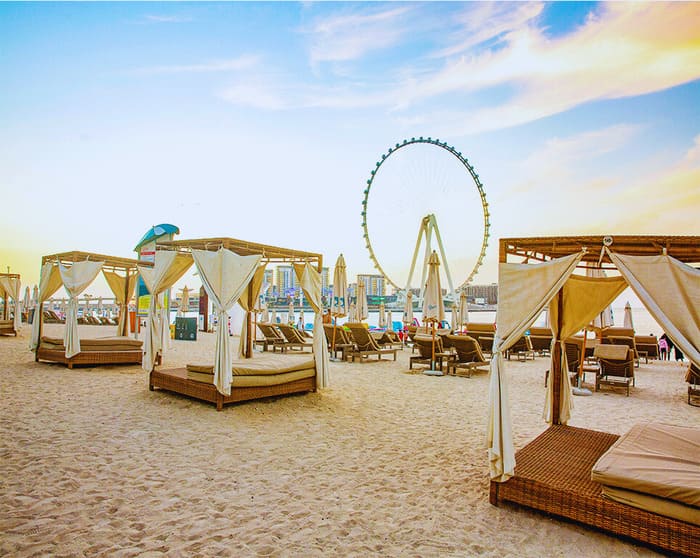 Sunbathing Lounge:
If swimming isn't your thing, you can always lounge on the sandy Jumeirah Beach and enjoy the sunshine. The ideal beach day features white sand, beautiful skies, and ocean breezes. Rentable sun loungers and umbrellas abound, allowing you to unwind in comfort. Apply sunscreen always because the Dubai sun may be extremely scorching.
Jet Skiing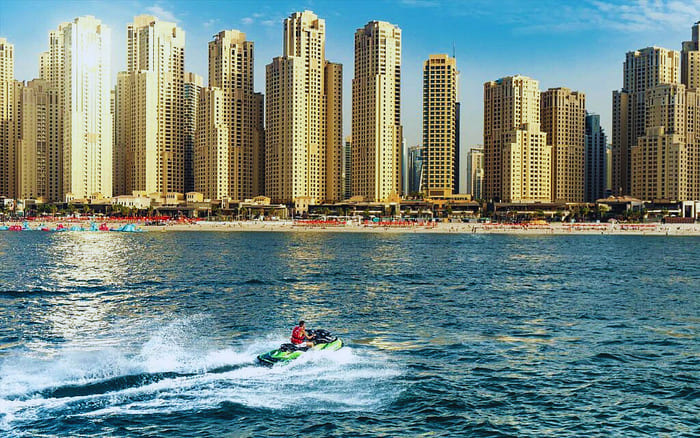 Anyone wishing to experience beach activity should try jet skiing at Jumeirah Beach. Jet ski rentals are available from a number of businesses, usually close to public beaches. Exploring the coastline and experiencing the Dubai way of life on a jet ski is an excellent alternative. This one-hour guided Jet-ski tour counts as a significant adventure. The jet swiftly passes by iconic landmarks like the Al Arab and other magnificent skyscrapers in the skyline.
Boat Tour and Parasailing
Enjoying a boat cruise is another fantastic way to experience the coastline. The Jumeirah Beach Hotel tends to be the starting point of these cruises, which take you on a tour of the located next islands. You will visit some of Dubai's well-known landmarks, including the Burj Al Arab and the Palm Jumeirah.
Jumeirah Beach Park Visit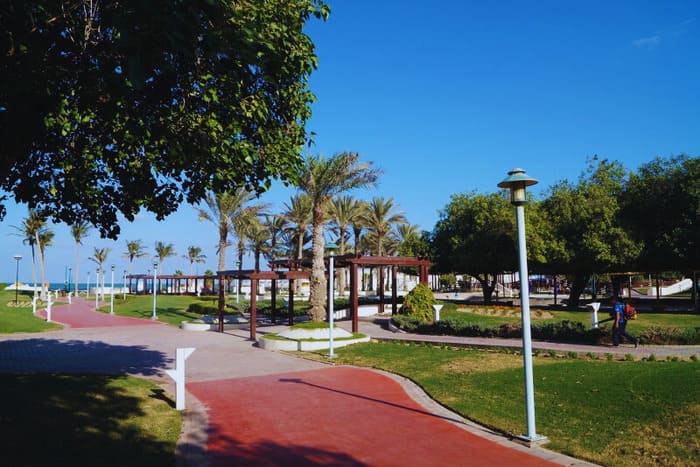 Visit any of the neighborhood parks if you want to take a break from the beach. Walking distance from Jumeirah Beach are a number of parks that provide a range of recreational opportunities for people of all ages. Therefore, you should make a point of visiting these parks, especially the one that has a play area for kids.
Conclusion:
Jumeirah Beach is one of the most tourist-visited beaches in Dubai, located in the center of Dubai city. Here you can enjoy the wonderful views of the skyline as well as a variety of stores and eateries. You can get information about the availability of buses and metro through RTA apps along the route. By following their guidance, you can discover a fast, less expensive, and ideal route to Jumeirah Beach by Metro.