Dubai Production City is a large area in Dubai, about 43 million square feet. It used to be called The International Media Production Zone or IMPZ. It started in 2003 as a special place where media companies could work freely. The TECOM Group built it. There are homes and business buildings in Dubai Production City, and it's a nice place for people who live there and those who visit.
In short:
There are fancy apartments with many beds with different styles and things to enjoy.

It's a community with homes, shops, and offices all together.

There's a shopping and fun place called City Centre Me'aisem.

You can easily find schools for children, mosques, and restaurants nearby.
Properties in Dubai Production City
In Dubai Production City, you can find different kinds of homes with extra beds. Most of the homes are apartments with single to many beds, and they come in different sizes, from small studios to bigger 3-bedroom flats. These apartments are in buildings of different heights, like short, medium, and tall ones.
For businesses, there are offices, shops, warehouses, and places for workers to stay in Production City. You can rent or buy both homes and business spaces here. Many people like this place in Dubai because it's not too expensive to buy property here. People who invest money here can make a lot more in return.
The most famous place to live in Dubai Production City is the Lakeside Tower. This tower has 4 big buildings, each with 22 floors. Lakeside Tower was built by DAMAC Properties, a famous property developer in Dubai. Another good place to live is Midtown. It's a group of flats that you can own, and they have big balconies with lovely views of Jumeirah Golf Estate.
Lago Vista is the third most popular place to live in Dubai Production City. It's a set of buildings with flats that are good for living. Centrium towers offer apartments in shorter buildings, and it's the fourth favorite place for people to live. These buildings have nice things like a health club, gym, swimming pools, fast elevators, and security that's available all day and night. The fifth most popular place to live is the Crescent Towers. There are three buildings, each with 15 floors. They have one and two-bedroom apartments and studios for people to rent.
Best Hotels To Stay In Dubai Production City
If you're staying in Dubai Production City for a while, you might want to stay in a hotel apartment. These are some of the hotels you can choose from, and they're all in the free zone community:
Ghaya Grand Hotel

Aloft Me'aisem

Element Me'aisem

Occidental Dubai Production City
Aloft and Element are 4-star hotels that are part of the Marriott group, and they're right near City Centre. Ghaya Grand has apartments you can stay in, and Occidental is a fancy hotel that's closer to the main roads.
Read Also: How to pay parking in Dubai
Amenities, Schools, and Healthcare in Dubai Production City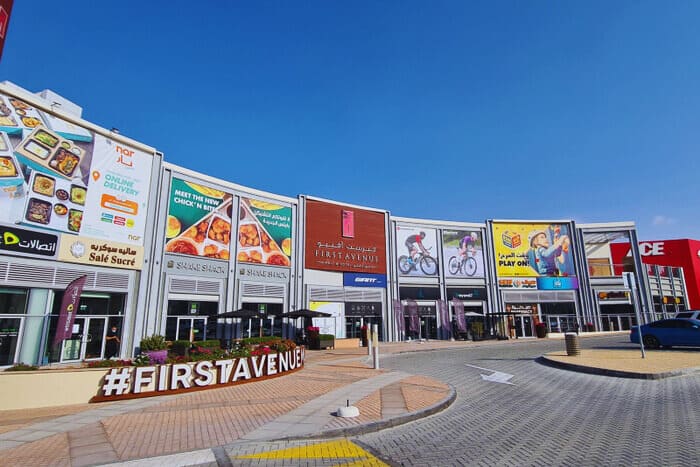 To get your everyday groceries, you can go to the Carrefour Hypermarket in the City Centre of Me'aisem. There are also other supermarkets in Dubai Production City, such as W Mart Supermarket, West Zone Fresh Supermarket, and Swiss Mart.
In the northern part of Dubai Production City, there are several mosques like Jumaa Mosque, Masjid Jama, and some others that don't have names yet.
For Christian residents, there are options in Jebel Ali, like Christ Church Jebel Ali, United Christian Church of Dubai, Saint Francis of Assisi Catholic Church, and Dubai Evangelical Church Centre.
The Guru Nanak Darbar Sikh Gurdwara temple is also in Jebel Ali. Hindu temples are a bit farther away, about 35 minutes in the Bur Dubai district. Some options there include Shree Krishna Haveli, Shiva Temple, and Shrinath Ji Temple.
Right now, there are no schools for children in Dubai Production City itself. But you can send your children to nearby schools. You can find GEMS United School (American curriculum), Dubai British School (UK curriculum), and Emirates International School Meadows (IB curriculum) close by. These schools are highly rated and are determined to provide quality education to children.
If you have little kids, there's Kids Kingdom Nursery School right next to City Centre Me'aisem. There are also other nurseries near Jumeirah Village Circle, just a 10-minute drive away, like Jumeirah International Nursery and The Wonder Years Nursery.
For higher education, Knowledge Park with many universities is 20 to 25 minutes away. You can also reach Oracle University and the American University in Dubai, which are about 20 minutes away on Sheikh Zayed Road.
In Dubai Production City, there aren't any hospitals right in the neighborhood. But don't worry, there are good hospitals just a 10 to 15-minute drive away.
One option is the NMC Royal Hospital in Dubai Investments Park. There's also the Medicare Medical Centre in Motor City, Mediclinic Parkview Hospital on Umm Suqeim Street (D63), and Al Zahra Hospital on Sheikh Zayed Road. These are some of the best hospitals in Dubai, United Arab Emirates.
If you need medical help for smaller things, you can visit the City Centre Clinic in City Centre Me'aisem. There's also a clinic called iCARE Clinics, which is about a 15-minute drive away. They have doctors who specialize in different things like teeth, women's health, kids' health, physical therapy, and general surgery.
Shopping and Dining in Dubai Production City
The main mall in Dubai Production City is City Centre Me'aisem. It's a single-story mall, so it's easy to get around. This mall is really popular with the people who live here. It's owned by the Majid Al Futtaim Group and has lots of fancy shops where you can buy high-end things. The mall is pretty big, covering an area of 23,850 square meters, and it has parking for 750 cars.
Besides shops, there are other things to do in the mall. You can visit beauty salons, gyms to stay fit, a medical clinic if you're not feeling well, and even a bank. And if you need groceries, there's a big Carrefour Hypermarket. The mall is up north in the neighborhood.
People who live here have lots of choices when it comes to eating out. You can go to the City Centre Me'aisem and pick from different cafes and casual dining places. There's a Lebanese restaurant called Leila Restaurant, and if you want French food, there's a place called Paul where you can try it.
Other restaurants in Dubai Production City include The Big Wok, Filli Cafe, Broccoli Pizza and Pasta, Qasr Al Jabal, and Al Shams Restaurant and Cafe. So, there are lots of tasty options to explore.
Read to know: How to make money in Dubai.
Conclusion:
In Dubai Production City, you can enjoy a relaxed lifestyle. There are homes and businesses here, and more projects are coming in the future. But remember, the fun and entertainment options in the community are still growing and might take some time to fully develop. So, if you choose to live in Dubai Production City, be prepared for a comfortable, easygoing life.