For all new drivers in Dubai, I think it's compulsory to know how to renew your driving license in Dubai and keep up-to-date valid driving licenses. Generally, driving licenses are renewed online every 10 years for UAE citizens and every 5 years for Emirates residents.
You must pay all traffic fines before you renew your driving license in Dubai. Customers will pay AED 10 per month as a penalty if they postpone their driver's license renewal for longer than a month. Here you need you know how you renewed your license as a resident in Dubai or if you're an Emirati expatriate living in the city.
In Dubai, renewing your driver's license can be a rather simple process. Before you apply, we recommend you recheck the validity of your online accounts. You will require both an RTA account and a UAE Pass account to finish this process rapidly and swiftly.
If you're renewing your license the first time, you no longer need to worry, we will guide you through the easy and smooth process of renewing your driving license in Dubai.
Read to Know: How to pay parking in Dubai?
Steps to Apply for Smart Service:
Simply apply online on the RTA website Also you can use the smart channel.
Login through the online account.
Sign up – Select a service from the list of services.
Fill in the request details.
Electronic fee payment (Credit Cards (Visa, MasterCard) E-dirham delay.
Collection of results (electronically or by courier).
Recent Vision Test:
If you want to renew your Dubai driver's license, all you have to do is visit the local optical center where the Roads and Transport Authority (RTA) conducts driving license eye exams. You can apply for your driving license renewal on your phone after the vision test. You can even have the renewed card delivered to the location of your choice.
For the eye, the test fee is 100 AED
Courier charges 15 AED + 10 AED delay
Applicants of all Nationalities in UAE Documents Requirement:
Customers under 21 years must have an original valid Emirates ID.
Customers over 21 years must keep an original valid Emirates ID and recent eye test according to your required category.
For Expatriates Documents Requirements in Dubai:
Should have approved letter from Ministry of Foreign Affairs.
Original Emirates ID.
Driving License both (valid or expired).
2 X colored passport-size photos.
Instead of the Emirates ID, diplomatic cards are issued to Embassies, Consulates, and International Organizations.
Documents For Marsoom Holders:
Need a valid copy of your passport.
Need a valid copy of Marsoom.
For Sons of Emirati passport-holders women:
Need a valid copy of your passport.
The customer's mother is Emirati, according to an approved copy of a letter from the General Directorate of Residency and Foreigners Affairs.
Renewal License Service Fee:
For UAE residents: Dubai Knowledge 20 AED – Innovation 20 AED.
UAE State Fees: For those under the age of 21, the Fee is 100 AED.
For those who are over the age of 21, Fees is 300 AED.
Process timing:
The renewal process time of a Dubai driving License takes an average of 2 to 5 working days. You will be notified by RTA SMS or E-system service. You can take printout for a proof of license renewal for temporary and wait for the physical driving license will be mailed to you.
Dubai RTA E-system makes easy process of getting your renewal driving license:
According to RTA guidelines, residents under 21 years and those over this age can get a diving license in Dubai.
The RTA service has offered several online options for renewing driving licenses in Dubai. I recommend you make sure your online accounts are in order before you apply. You will require both an RTA account and a UAE Pass account to finish this process swiftly and easily. You may set up both of these accounts on your smartphone.
Here are some of the channels you can use for a driver's license:
Dubai RTA Official Website: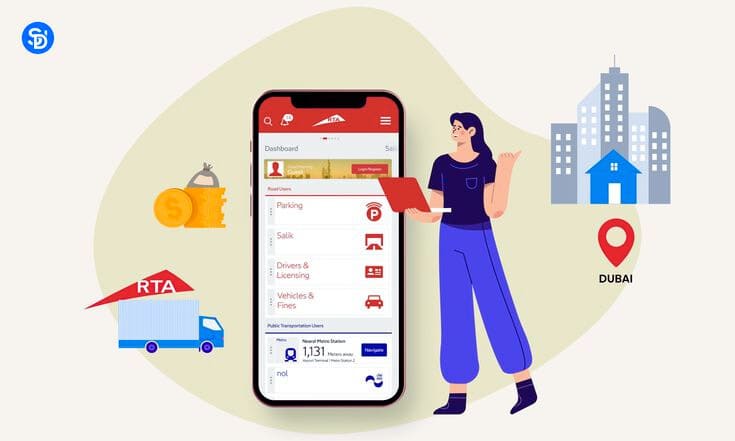 1. Click "Apply for driving license renewal.
After opening the application. The following details will be displayed in connection with your traffic card:
Your date of birth
Your driver's license number
The date it was issued
The number for the road traffic regulations
"Click" to continue.
  2. Following that, you will learn:
If your driving license has any vision examination and the outcome of your eye exam.
Click "Next"
3. Choose your delivery method:
If you avoid paying an extra 25 AED in courier charges you can personally collect them from the customer happiness center.
If you want to get a license from courier service. The kiosk app will provide you with a map showing the locations of nearby kiosk centers where you collect your driver's license.
If you select the courier option, you will be asked for your address information.
Most of the UAE Pass Kiosk self-service machines are located at the service center. To apply from the Kiosk self-service machine, you just need to follow these steps:
Add your driver's license number to the Kiosk machine.
You will pay charges on the spot through a credit card.
The self-service machine will automatically process you will get the print of the renewed driver's license confirmation.
4. Required E Document:
You will have to enter your phone number and email address when using eDocument.
How to Call the RTA service center to renew your Dubai Driving License:
Renew your Dubai driving License through the RTA call service is very convenient and fast, You just do these same steps:
For calling: Dial RTA call center number "8009090".
For all services Press*.
For vehicle licensing, parking or e-service, and other Press 1.
Speak to an operator and plan your desired journey Press 2.
Benefits for Tourists having International Driving Licenses:
If you have a current international driving license, you can rent a car while visiting the UAE. You can operate a vehicle that is registered in your name or the name of a close relative if you have an international driving license.
The benefits of getting a driving license in Dubai are numerous. This not only gives you more freedom to explore the UAE, but it can also increase your employment options because many positions in the UAE demand a valid driver's license.
Overall, with the right planning and training, getting a driving license in Dubai is possible and worthwhile despite any potential difficulties.
When you are ready to start driving and have your license, you must first register with Salik, Dubai's electronic toll collection system.
Final Words:
Always stay on top of renewals to avoid any fines. Don't forget that renewing your driver's license is a chance to make sure you're responsible and prepared for the road as well as a necessary task. Use this opportunity to review your driving skills and keep up with any changes to the law. To stay away from future fines in Dubai, must follow our guidelines. Dubai roads always be in your favor – Happy driving and Stay Safe in Dubai.
Read to Know: How to remove the travel ban in UAE?