Brief Overview of Al Nahda Park Sharjah:
Al Nahda Park Sharjah is located in the center of the busy Al Nahda surrounding area in Sharjah, off Ittihad Street. The park has regularly been available to the public since 6 a.m. every day for a long time.
Al Nahda Park Sharjah's area is around 60,000 square meters, to add to that. The park offers a variety of kid-friendly activities and features a large lake and a lot of vegetation. On top of that, you can engage in a few activities on the park's walkways.
Do you have any ideas for activities to do on the park's pathway? You can go walking, cycling, jogging, or roller skating in the area.
History of Al Nahda:
Al Nahda City in Dubai and Al Nahda City in Sharjah are connected by the Al Nahda Bridge. Al Nahda City is distinguished by its advantageous location halfway between the cities of Sharjah and Dubai.
It is home to numerous old and new residential and commercial projects, as well as a number of residential complexes and towers. Its rental costs are also less expensive than those in Dubai.
Timings of Al Nahda Park Sharjah:
Al Nahda Park Sharjah is open from 8:00 a.m. to 1:00 p.m. and from 4:00 p.m. to 10:00 p.m.
Al Nahda Park Sharjah great location for gatherings:
A playground, picnic tables, and seating are also included in the park to accommodate the families who come to visit. Public basketball, football, and volleyball courts are also available in this lovely park.
Those who live there in the nearby neighborhoods may enjoy a lavish and green harbor at Al Nahda Park Sharjah, an excellent spot. But there are also plenty of competitive activities, amenities, and chances for families and guests to spend a day out together in this sophisticated park.
But the park does have a number of food and drink establishments. Food and beverages are therefore offered to guests to enjoy at the park's stores. Al Nahda Park Sharjah is a great place for late-night BBQs because of the beautiful fountain that is lit up at night. Visitors can enjoy a beautiful view, a variety of activities, and amenities in the park.
Read to know: Dubai Investment Park
Fun Activities to do in Al Nahda Park Sharjah:
Fitness / Exercise / Relax:
Al Nahda Park in Sharjah welcomes those who love exercise because it is a dedicated space for training and offers a variety of sporting goods.
Children's entertainment area:
After a long school day, kids need to keep themselves entertained, and Sharjah's parks are the best choice. Children can enjoy a range of safe and enjoyable games in the children's play area at Al Nahda Park, such as swings and slides.
Football and Basketball Courts:
Al Nahda Park Sharjah features basketball and football facilities where you may work up a sweat and hone your talents if you're a sports fan. During the weekends and at night, neighbors frequently initiate pick-up games.
Spend Quality time with close ones:
The park provides visitors with the greatest services and attractions, and its sports grounds are its most alluring feature for tourists. There are tables and chairs in the garden, and you are welcome to bring lunches and other snacks to dine there. There are free football and basketball courts in the park that are open to everyone. Visitors are welcomed in accordance with park hours.
Riding Bicycle in Al Nahda Park Sharjah:
Within the park, bicycles can also be rented for tours. The renting of a bike requires a deposit of 20 dirhams for an hour's worth of riding and 50 dirhams for insurance.
Recommended: Place to visit in Khorfakkan, Sharjah.
Supermarkets and Restaurants near Al Nahda Park Sharjah: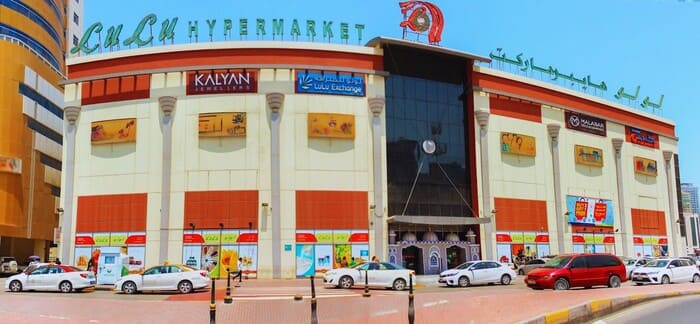 Al Nahda in Sharjah is dwelling to a wide range of eateries, not simply those located in the area's many retail malls, providing cuisines from all over the world. Though there are many options available at different price points, the majority of the dining places in the region specialize in Arabian, Pakistani, and Indian cuisine.
There are also several cafeterias fast-food restaurants and shopping malls in the area.
Restaurants:
Najmat Pakistan Restaurant

Al Bait Al Arabi Restaurant

Al Amor Restaurant

AFC Arabian Fried Chicken

Kukko Restaurant
Shopping Malls:
Mall Al Ghurair.

Mall Ramez.

The Mall Aswaaq in Nad Al Sheba.

Arab Mall in Dubai.

Mall Ansar.

Central Market of Sharjah.

Hypermarket Lulu.

Market Square.

Markets Al Warqa'a.
Read Also: Hatta Dam in Dubai.
Tourist Attraction Near Al Nahda Park Sharjah: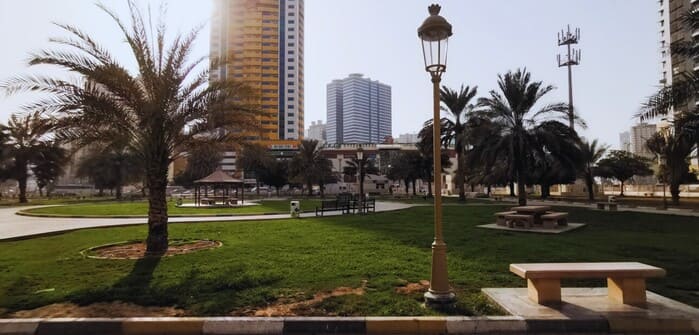 The boundary between Sharjah and Dubai is where Al Nahda is located. Because there are amenities for its residents, it has a reputation as one of the residential areas that attracts tourists.
In addition to shops, it features a park with basketball and tennis courts, a number of outdoor activities, and a variety of services. It also facilitates numerous prominent nurseries and schools.
The Sahara Center:
The Sahara Centre, one of the largest shopping centers in the area, is situated next to Al Nahda Park. Shopaholics and leisure seekers can have a thorough experience at the mall with its wide selection of retail stores, entertainment venues, and culinary businesses.
Sharjah Cricket Ground:
Sharjah Cricket Stadium is an amazing attraction for cricket fans. Countless tournaments and international matches are organized here. Its thrilling atmosphere and world-class amenities captivate the attraction of sports lovers.
Waterfront at Al Majaz:
The Al Majaz Waterfront is only a short drive from Al Nahda Park. It is a bustling location renowned for its elegant waterfront vistas, exquisitely planted gardens, and an array of food options. Visitors can enjoy musical fountain performances, boat rides, musical fountain performances, and leisurely strolls along the waterfront promenade.
Sharjah Museum of Art:
The distance of Sharjah Museum of Art from Al Nahda Park Sharjah is just twenty minutes. Visitors can have a memorable cultural experience at this location. Arab traditional art is significantly presented in collections and exhibitions. Art enthusiasts can discover more about the local cultural heritage by exploring and spending time at this site.
Al Qasba amusement complex:
You can easily reach the Al Qasba entertainment center in just fifteen minutes by car from the park. A variety of engaging activities are available here like shopping, dining, and attending different cultural events. Tourists can also enjoy boat trips, an observation wheel, and many cafes and restaurants here.
Few Useful Tips for Visitors:
Here are some tips to improve your visit to Al Nahda Park Sharjah if you're planning to go here:
If you want to avoid crowds and spend in a peaceful atmosphere, don't plan your visit on weekends and peak hours.
You can plan to arrange a picnic party here by bringing a picnic basket

filled with your preferred snacks and drinks.

Wear easy and comfortable shoes and attire to fully enjoy your tour.
To avoid sunburn and harmful rays, carry a hat, sunglasses, and sunscreen.
Keep the place clean and throw the trash in bins. Don't break the park's laws.
Read Also: Jumeirah Beach, Dubai.
Conclusion:
Al Nahda Park Sharjah is a symbol of the city's heedfulness to offering green areas that improve the quality of life for both locals and tourists. The park's stunning natural surroundings, well-designed amenities, and family-friendly atmosphere provide a welcome escape from the urban bustle. Anyone looking for leisure, fun activities, or a place to get in touch with nature should definitely consider Al Nahda Park Sharjah.