Dubai Frame Inside was designed to be a popular tourist site, and it has succeeded in achieving the Dubai Municipality's desired objectives. The Dubai Frame Sights to see is located in Zabeel Park, one of Dubai's largest parks. No tall towers are seen near it. Dubai Frame is the structure offering the best view of Dubai due to its height. According to The Guardian, the Dubai Frame is the tallest man-made frame in the history of the world.
Dubai Frame is an eye-catching rising-up skyline structure. The highest Dubai frame is the incredible architectural wonder created to experience Dubai in a new way—past, present, and future. Dubai City is the place of several famous architectural icons. Many tourists rush to witness two different views of Dubai at once every day to count the hundreds. To ensure that as many tourists as possible may appreciate the grandeur of the Dubai Frame, just 200 guests get to stay on the main bridge each hour.
How to get in the Dubai Frame:
From 9 am to 9 pm every day, the public can visit to see Dubai Frame. You can purchase tickets at the gate in the coming weeks, you can book tickets online or using an app for now, paper tickets remain in use of the traditional approach.
Children under three and people with disabilities are free to enter. Adult tickets are Dhs50, while child tickets are Dhs20. Before entering Dubai Frame, you must go through a quick security check. Your luggage or other bulky goods can be kept in a locker at reception.
It's quite easy to get parking directly outside the Dubai Fame. If you haven't another option, you can travel here using the metro if you exit from "Max Metro Station." However, the distance from the station to the entrance will take you 10 minutes to walk.
What actually you can see inside of Dubai Frame:
The "Dubai Frame Exhibition" is the first something interesting you'll see it chronicles the history of how Dubai Frame came to be. From the top floor's vantage deck, you can see Dubai's presence. You can travel back in the past for 50 seconds by taking a lift up to the present. With Old Dubai on one side and Modern Dubai on the other, the city's skyline is insanely viewed from the top level. You can view how Dubai has changed then and now. The glass floor is covered, but as soon as you walk on it, the motion sensor triggers and lights up the space below you.
The Dubai Frame has a rectangular shape that is richly adorned with a shiny stainless-steel gold coating, paying homage to Dubai's status as the "City of Gold." The exterior's shine stands out against the sky's blue background. The Sky Deck, which is 48 stories up, was reached by elevator. It goes without saying that in order to enjoy this attraction, you must be at ease with heights. It was a unique experience to be able to look at stunning views of Dubai from the top.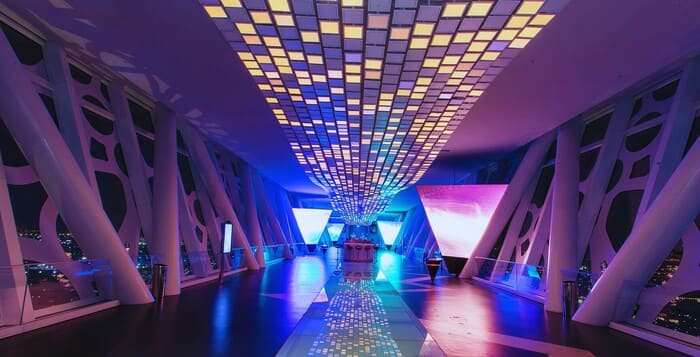 As you ascend the one-story escalator, you will arrive at an exhibit that showcases the city's history. Please note that you cannot capture pictures in this area. This experience allows you to immerse yourself in the history, present, and future of the city. Following that, if you decide to visit the Dubai Museum, you will see a recreation of an antique market street.
The city's historical expansion will be suggested by the 3D projections. You may experience some challenges if you're afraid of heights. Inside, there is an enclosed space that is 93 meters long, yet when you get off the lift, it's just 15 meters wide.
Also Read: Places to Visit in Khor Fakkan, UAE.
Dubai Frame Inside North and South Side City View:
To the north, you can view the city as it once was from this amazing perspective illustration. One of the oldest districts of Dubai is Bur Dubai, which is also famous as the Creek region. You may see it as it was and will be to the south.
A staggering number of skyscrapers dominate the skyline of the Dubai International Financial Center, giving it an almost surreal appearance reminiscent of a scene from a JG Ballard novel. These overwhelming buildings give off the impression of being spectral in some way, like the phantom of Christmas Future, the morning I visit because of the bottom cloud that covers them.
Past Portion – Old Dubai:
You can see the old Dubai gallery during the "past" portion of the adventure. You are going to get completely absorbed in Emirati customs and culture. It will also be possible for you to observe how the city changed through time from a little town to one of the richest areas in the world.
Present Dubai Sky Deck Views:
You can experience Dubai in the "present time." The Burj Khalifa skyscraper and the downtown backdrop will be visible to you from the Sky deck, giving you an amazing perspective. The glass floor was another opportunity we had, and it was both thrilling and amazing. Sitting above the translucent floor, we managed to capture some fantastic images.
Future Dubai Virtual Gallery:
The Future Dubai exhibition is the last stop on your sightseeing itinerary as the adventure comes to an endpoint. You will be lucky enough to see what Dubai will be like in 50 years by traveling through this tunnel. You'll have a unique experience in the tunnel as if you were passing through a time vortex, due to the usage of vibrant colors and music effects.
What's the best route to reach Dubai Frame?
You can reach Dubai Frame in a few different ways from the airport. From DXB, one can access the metro services via Al Karama, which is quick and practical. You can easily book a taxi, which will take you to the Dubai Frame in just 10 minutes. Alternatively, you can take Line Bus 33, which will get you there in 30 minutes.
Read to know: How to go to Jumeirah Beach by Metro?
Useful information before visiting Dubai Frame: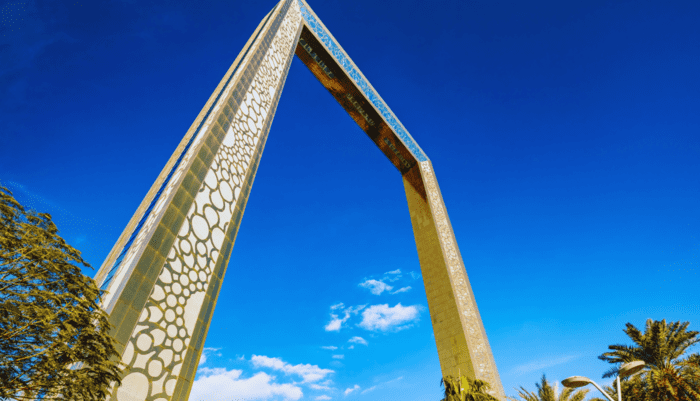 Don't smoke inside the building.
Don't sit them down or place them on constraints.
Don't carry your pet cats and dogs along.
Avoid carrying toys or other sharp objects.
Dress smartly.
You cannot eat and drink there.
Baby carriages and bulky luggage are not allowed.
An adult must supervise or accompany children under the age of 12.
Stay away from or touch any displayed objects or exhibits.
Near Dubai Frame tourist destinations:
Other tourist destinations are close by to keep your eager spirit up after you finish your Dubai Frame inside tour. Just to point out some of the of them:
Enjoy all of Zabeel Park's exciting attractions within a 5-minute walking distance.
Visit the Omni Club Dubai, just 5 minutes from Dubai Frame, to experience the exotic nightlife.
In just 13 minutes, you may have a satisfying shopping experience at Karama Market.
Spend some time at the nearby Mandara Spa pampering yourself.
Conclusion:
Get to know every detail about the past, present, and future of the city by exploring the Dubai Frame inside. You will like the futuristic view of the metropolis, which appears vibrant and environmentally friendly.
I have briefly explained all the adventures, but if you embark on your own adventure, you will discover more real-time experiences and sights. Even with family or friends around, you won't get bored. There are plenty of other locations worth visiting, such as Dubai Investment Park.
However, be careful of the road signs while you driving or another mode of transportation to get there.