Dubai is one of the few places in the history of the world that has changed in such a short period. The entire change in Dubai is very impressive. From the 1990s to now, Dubai has changed altogether from infrastructure to growth in the economy, it has now become a global tourism hub In photographs of the late 90s, Dubai is just a barren desert with very few buildings appearing here and there. Some construction cranes are working around. But if we look back at the 2010s, the world-class architecture was in Dubai, and now it's a global powerhouse. Dubai achieved this huge status in a very short time.
There are a numerous variety of economic, traditional, and cultural factors that lead Dubai towards success. Now, Dubai is a richer, happier, more luxurious, and more advanced place from every point of view as compared to a couple of years ago. But at this time, Dubai is one of the most advanced and growing places in the entire world to live and have a happy life. Dubai is now the holder of many world records and still continuously achieving one after another. Tourism is one of the major parts of Dubai's success. Dubai is now a favorite destination for most tourists from all over the world. Following are the ten ways Dubai has changed then and now.
1. Skyline Transformation: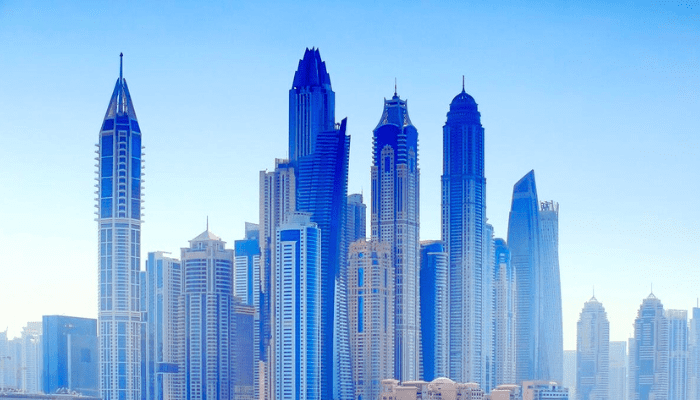 Dubai's skyline transformation is an ongoing process, with new interesting projects continuously forwarding the boundaries of architecture and urban planning. The crowning diamond of Dubai's skyline is the Burj Khalifa, which opened in 2010. Standing at a surprising height of 828 meters (2,717 feet), it is the tallest building in the entire world and a true engineering masterpiece. Dubai is home to various other architectural curiosities, such as the sail-shaped Burj Al Arab, considered one of the most luxurious hotels globally, and the twisting Cayan Tower. The area around the Burj Khalifa is known as Downtown of the City. Dubai has changed from a barren desert and become a dynamic urban center, featuring a mix of residential, commercial, and entertainment spaces. Dubai Creek Harbour is also a stunning development.
2. Infrastructure Growth: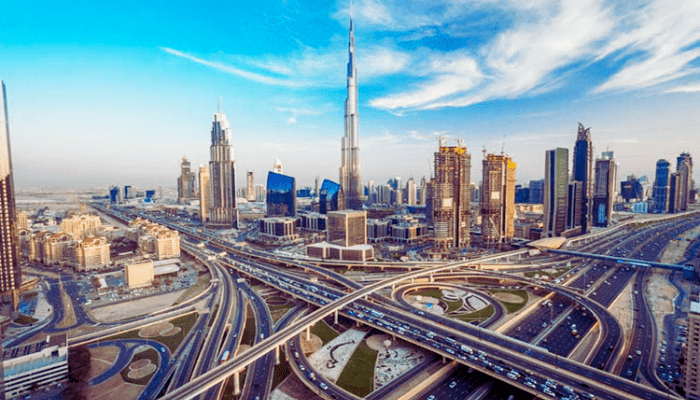 The city has significantly invested in infrastructure development, expanding its road networks, public transportation, and modern facilities. Dubai has changed to a great extent because of its infrastructure growth. The city has invested Billions of dollars in the progress and to make it a successful planned city. The infrastructure growth of Dubai has been nothing short of extraordinary, and it has played a major role in transforming the city into an attractive and modern metropolis and a global hub for business, tourism, and innovation. The commitment to Dubai's infrastructure development has been a key driver of its economic growth and international prominence. The few famous projects of Dubai's infrastructure are:
Burj Khalifa (the world's tallest building)
Palm Jumeirah (an artificial palm-shaped island)
Burj Al-Arab (a luxury sail-shaped hotel)
Dubai Frame (a unique architectural structure)
Dubai Mall
Dubai Expo 2020 (Now Expo 2021)
Jebel Ali Port
Transportation (such as Dubai Metro and Dubai Tram)
Attractive International Airports (Such as Al-Maktoum & Dubai International Airport)
3. Tourism Hub: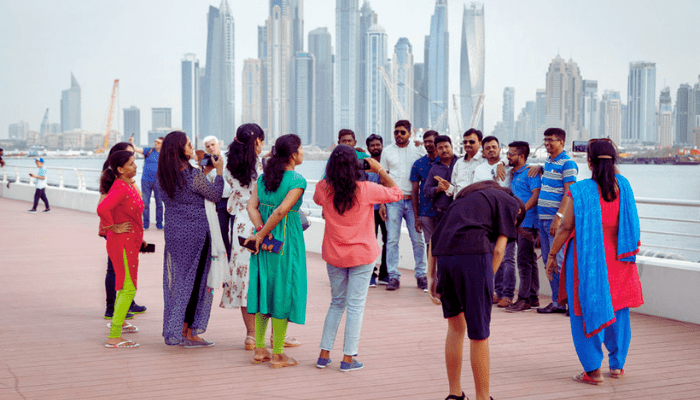 Over the last few years, Dubai's tourism has grown rapidly. Dubai has organized itself as a global tourism hub, attracting millions of visitors annually with its luxury resorts, entertainment, shopping, and traditional and cultural experiences. Now, Dubai is becoming one of the world's most sought-after destinations for travelers from all corners of the entire world. Dubai is famous for its impressive and iconic landmarks, including the world's tallest buildings, attractive artificial islands, luxurious hotels, and unique architectural structures. The city isn't cheap but still, it's the most exciting city to visit in the world.
Also Read: Place to visit in Khor Fakkan, UAE
4. Artificial Islands: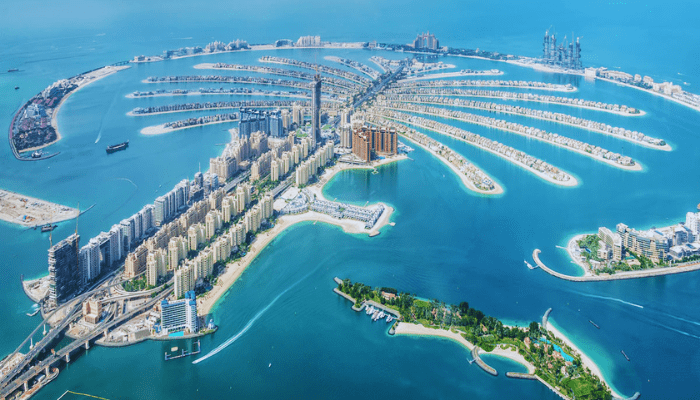 Dubai is known for its attractive artificial islands, each of which is designed to expand the city's coastline and create unique and luxurious destinations. These artificial islands are a testament to Dubai's ambition and innovation in urban development Dubai has constructed several artificial islands, some of the famous islands are:
Palm Jebel Ali
Palm Deira
The World Islands
Bluewaters Island
5. Diversification of Economy: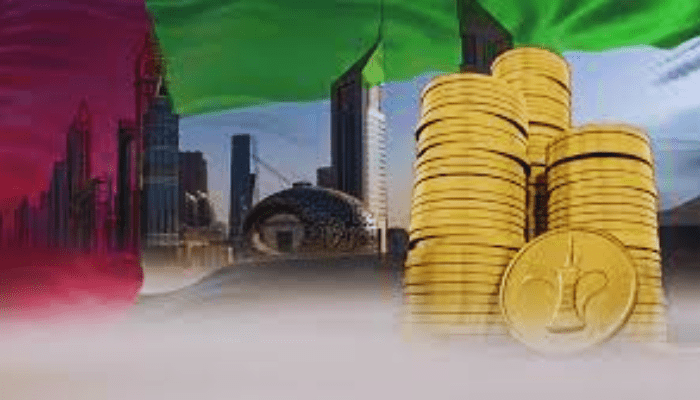 Dubai's diversification of the economy has been a strategic and essential process to reduce its reliance on oil revenues and build a sustainable and resilient economy. While Dubai was traditionally reliant on oil revenues, it has made significant developments in diversifying its economy, focusing on sectors like tourism, real estate, finance, and technology. The business sector, available opportunities, Professional hub, and zero income tax are major parts of the diversification of Dubai's economy.
Read Also: How to make money in Dubai
6. Sustainable Initiatives: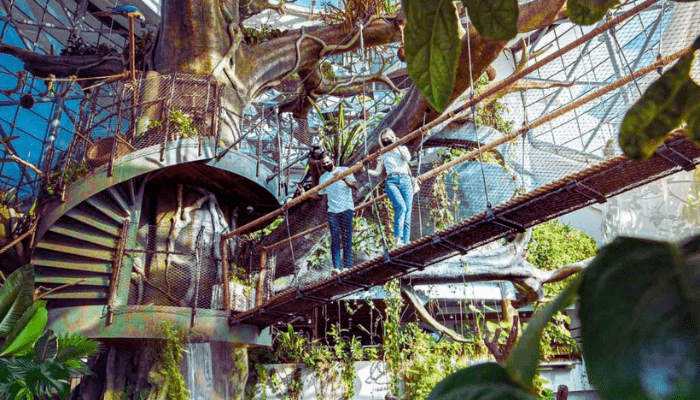 To transform a sustainable city, Dubai has implemented numerous eco-friendly projects, such as solar energy initiatives, Dubai Clean Energy Strategy 2050, green building regulations, Mohammed bin Rashid Al Maktoum Solar Park, Dubai Sustainable City, Dubai Water, and Electricity Authority (DEWA) initiatives, Waste Management and Recycling, Electric Vehicle (EV) Infrastructure, Biodiversity Conservation, Dubai Green Mobility Initiative, Dubai Sustainable Tourism. Dubai has been actively pursuing numerous sustainable initiatives to address environmental challenges and promote sustainability.
7. Smart City Technologies: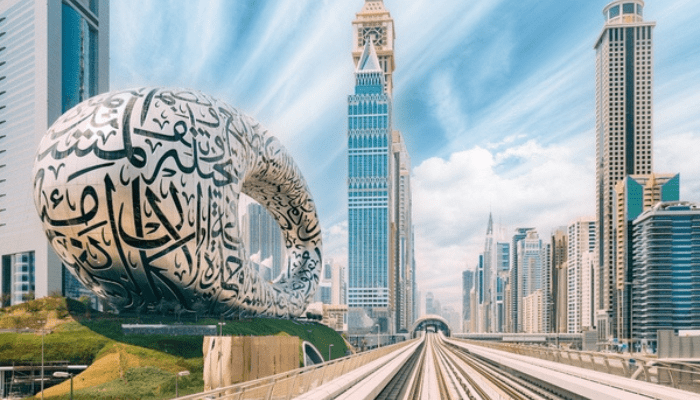 Dubai has embraced smart city technologies and is taking initiatives for the betterment of citizens. It has taken remarkable initiatives to digitally transform the system and is promoting E-Government. This will help in making the services more accessible to people. Artificial Intelligence (AI) is playing a crucial role in this respect. AI is being incorporated into numerous aspects of Dubai's smart city initiatives. Some other initiatives that have been taken by the Government are Smart transportation (especially smart taxi service), smart energy management, smart building, blockchain adoption for real estate, and much more.
8. Focus on Arts and Culture: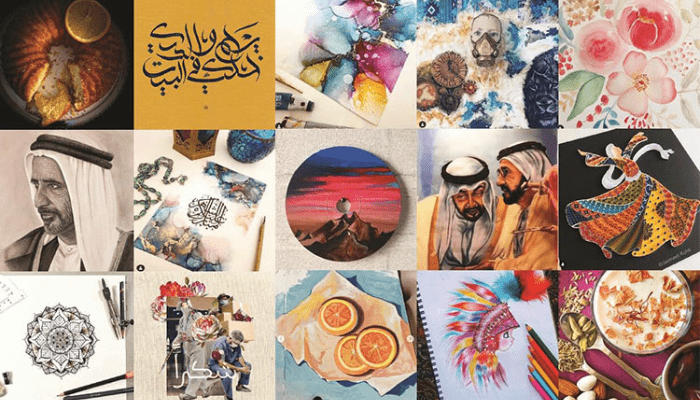 Due to its focus on arts and culture, the city exhibits a vibrant cultural environment. People from all around the world visit and work there making it a global cultural hub. It has invested in arts and culture, establishing world-class museums, and galleries, and organizing various events to showcase local and international talents. Dubai Culture is a government entity responsible for preserving and promoting arts, heritage, and culture in the city. They organize their event annually, in which they celebrate art and culture. Dubai Art Season is one of the most famous among them.
9. High Growth Rate in GDP:
The GDP (Gross Domestic Product) rate has remained high in Dubai as compared to other regions. Multiple sectors such as trade, tourism, real estate, finance, and logistics have contributed to diversifying Dubai's economy. Over the years, Dubai has established itself as a business-friendly city, offering numerous incentives and facilities for companies to set up their operations. It has made a huge investment in world-class infrastructure, including modern airports, ports, road networks, telecommunications, and other facilities for luxurious lifestyles. Its strategic location at the crossroads of Europe, Asia, and Africa has made it a major trade hub, facilitating the movement of goods and services.
Also Read: A comprehensive overview of Dubai Investment Park
10. Quick Growth in Population: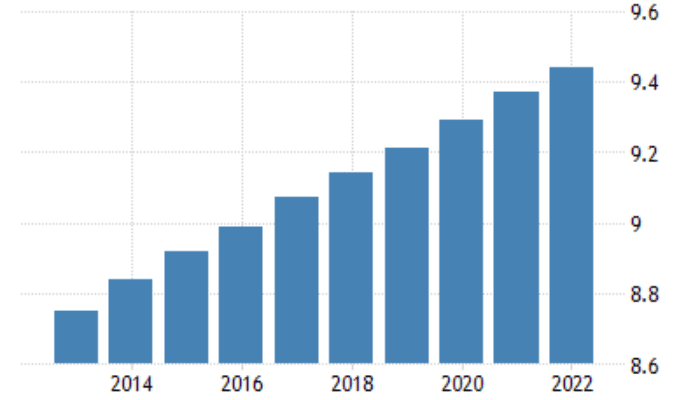 The population growth rate has continuously risen in Dubai for the last few decades. This is undoubtedly due to its transformation from an empty desert to a global business hub. Therefore, people from all around the world are attracted to enjoy various opportunities. People often come to Dubai in search of better job opportunities and improving their living standards. The friendly policies of Dubai's government regarding residency, tax benefits, and visas encourage people to live and work in Dubai. Skilled workers find many job opportunities and investors in the real estate sector also find abundant chances for growth. The good thing is, that the Government is actively managing population growth to maintain a sustainable balance between economic growth and infrastructure development.
Conclusion:
Dubai's journey from a barren land to one of the most developed cities of the 21st century is a sign of human innovation and modernization. This is the result of pure determination and a clear vision of making a change and development. The whole world is amazed by the rapid progress of Dubai which has changed it entirely. The continuous progress of Dubai will ultimately result in leaving a lasting mark on the world's stage captivating the attention of the world.