Overview of Souk Madinat Jumeirah
The Souk Madinat Jumeirah provides a deeply engaging cultural experience that is so much more than just a marketplace, making it the mall that remains out the most among all the other large malls in Dubai. The Madinat Jumeirah Souk is a charismatic shopping destination designed in accordance with the stereotype of a traditional souk market. Both tourists and residents find this place worthwhile because of the amazing ambiance.
While maintaining respect for its Arabian roots, Souk Madinat Jumeirah also incorporates some modern conveniences. A modernized Souk is recognized for its bustling and enjoyable vibe and artisanal core. Another must-see attraction starring a blend of elegant diverse cuisines, exclusive retail stores, an authentic bazaar experience, immersive art, and cultural entertainment that gives folks a taste of UAE's old tradition.
Explore Souk Madinat Jumeriah Market:
For shopaholic tourists who love to shop, Souk Madinat offers a wide range of retail stores. You've come to the right location if you're looking for authentic Arab-style products, such as traditional clothing, handmade carpets, and unique artifacts like water faucets, lamps, and carved objects. Visitors can enjoy spending quality time with friends while enjoying a drink or cup of tea in the shopping mall, cafes, and restaurants of Madinat Market.
The Souk Madinat Jumeirah, which is located in the center of the Madinat Jumeirah Resort, is a diverting of a traditional Middle Eastern market. It is full of distinctive architecture, exhibits barrows, and stands for shopping. Specifically in the evening, Souk Madinat is an attractive destination for both locals and visitors. The Madinat Jumeirah complex has various kinds of clubs from where can go to hang out if you wish to dance.
Read to know: Where to watch fireworks in Dubai
Opening hours of the Souk Madinat Jumeirah:
The shops of Souk Madinat Jumeirah are open from 10:00 a.m. to 11:00 p.m., while the restaurants and bars are open from 8:00 a.m. to 2:00 a.m.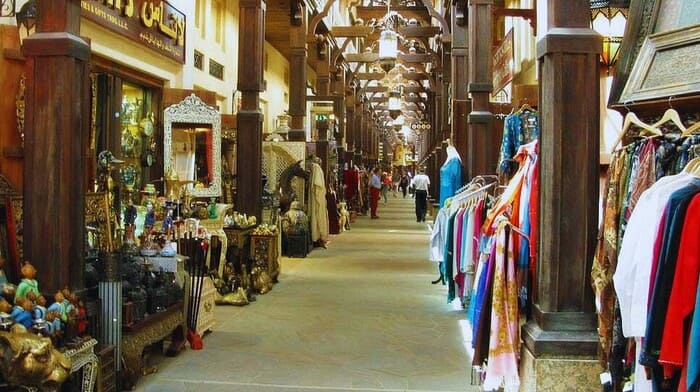 Souk Madinat Jumeirah's Architectural Style:
The original creekside community in Bur Dubai turned out to be an inspiration for the architects who created these spacious resort villagers at the core of the Burj Al Arab. The complex structure, whose amenities include three luxurious resorts and numerous separately owned houses set in a splendidly landscaped park, has wind towers, traditional wooden boats used as water taxis, waterways, and even a market that offers it a modern Arabian twist.
Activities must to do at Madinat Jumeirah Market:
Considering the added advantage of having views of the water, it provides a variety of restaurants as well as stores and galleries. If you go at night, the market comes to life with a wide range of fascinating musical acts and lots of excitement.
Turtle watching:
The Dubai Turtle Rehabilitation Project is located at the latest renovation to Madinat Jumeirah, now the Jumeirah Al Naseem resort. More than 560 sea turtles who were sick or injured got medical care there and then revived in the Gulf after getting better. The turtles spend the final weeks before their release in the lagoon of the lodging facility, which receives food from the sea. Wednesday feedings start at 11 a.m., and the enclave is free to enter every day. The hotel serves as the entrance. The widespread hawksbill turtle, of which there are only 8,000 nesting females are identified worldwide, has dragged into the list of highly vulnerable species.
Yoga on the beach:
Enjoying the panorama of the Burj Al Arab, do an inverted dog and sun salutation. Only sign up for the Dhs 90 daily yoga classes on the private beach of Madinat Jumeirah. It can be scheduled by the hotel's on-site Talise Spa. If you can time your practice for the full moon, you are going to embark on a spiritual make our way deeper than usual.
Abra Cruise at Madinat Jumeriah:
A 20-minute casual trip on a traditional-style "Abra" ride a motorized wooden boat) with padding, seats will allow you to explore the 2.5-mile-long network of winding waterways in Madinat Jumeirah. As you glide by charmed gardens with soaring palms, wide banana trees, and billowing bougainvillea against the breathtaking Burj Al Arab backdrop, the desert is shown far away. Cruises begin at the Souk Madinat beachfront next to Trader Vic's. You do not need to make reservations. Your Abra ride is free if you are a guest at a Madinat hotel or dine at one of the restaurants.
Plan to have dinner beside the canal:
Customer preference determines the core of the food experience here since there are nearly 50 distinct eateries and bars on the premises. You may visit an internationally recognized Indian restaurant, sample traditional Persian cuisine, or perhaps spend time in an alpine restaurant's winter wonderland. The most romantic outdoor locations are clustered along the canals. They are sun traps during the day and romantic at night.
Enjoy Performances at Madinat Theatre:
Enjoy the performance at the Madinat Theatre to fully cherish the entertaining side of the souk. The movie theater located exactly in the center of the lively Souk Madinat, provides accommodations for up to 440 audience. This venue hosts a wide array of performing arts, including ballet, stand-up comedy, musicals, and plays, all delivered with virtual grace. During the holiday season, the theater becomes bustling with theatrical performances and various other festivities.
The recently opened Theatre of Digital Art Dubai has transformed this artistic venue into a digital environment. Enjoy this virtual reality art exhibition, which is multi-sensory and immersive. You can view works of art by renowned artists like Claude Monet and Wassily Kandinsky here. The excellent visual effects and backing music raise the viewing experience to a new level.
Read to know: How to go to Jumeirah Beach by Metro
Restaurants & Bars Near in Souk Madinat Jumeriah:
More than 20 restaurants and cafés selling food from all over the world have opened in Souk Madinat Jumeirah. Most restaurants provide picture-perfect vistas of the complex ways carved buildings and winding rivers in Arabia. You can spend a chill evening watching the city at night in the restaurants. They have a relaxing atmosphere, enticing music, and nutritious meals. Here are our best recommendations for restaurants, bars, and cafes:
Trattoria Toscana – Italian Restaurant
Times of Arabia – Middle Eastern Shisha Bar
Maria Bonita – Mexican Cafe
The Meat Co. – African Streak House
Taverna Kitchen – Greek Restaurant
Publique Alpine Restaurant
Pai Thai – Thai Restaurant
Pierchic – Seafood Restaurant
Gelato Divino – Ice cream Bar
The most convenient way to reach there:
The Souk Madinat Jumeirah is situated at the crosswalk of Jumeirah Street and Umm Suqeim Street in Dubai's Jumeirah area. It is located south of the Burj Al Arab. The closest metro stop is the Mall of the Emirates, where you may take the metro, then a cab or one of the regularly moving buses will take you to Souk Madinat Jumeirah.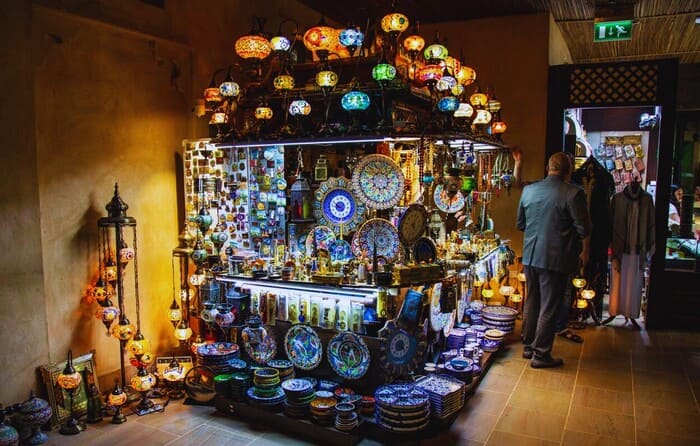 Final Words:
As we come to a conclusion about Souk Madinat Jumeirah, it wouldn't be misguided to make remarks that this valued location is not just a shopper's paradise but also a dipping cultural experience! Now that you're well-informed about Souk Madinat Jumeirah, let's delve into what sets Souk Al Bahar apart as an exceptional shopping destination. Additionally, explore what makes Deira Gold Souk stand out from other markets.
Other regions of the UAE, outside Dubai, have some amazing souks like Dubai Spice Souk. For most people, the Central Souk in Sharjah is a preferred shopping destination. Similarly, the Souk at Qaryat Al Beri in Abu Dhabi also holds a special place in their shopping choices.