Fireworks in Dubai-UAE:
Firework is itself a beauty in watching it with bare eyes. It shines in the eyes and puts the mind on a spark. A spectator, once lost in it remembered tremendous memories of his life. Fireworks are a great tourist attraction in Dubai. People also go to watch fireworks in Dubai as it is considered a special significance of joy in Dubai. People of different countries and cultures watch these joyful scenes together and make a new bond of happiness there. It is also the beauty of Dubai.
As Dubai is very familiar with its tourist attractions and mostly, when people decide to visit any warm and peaceful place, Dubai comes first in their mind. Dubai has many resorts, restaurants, cafes, bars, waterfalls, beaches, firework-places, and other locations containing their cultural touch and full of fun places. People enjoy their vacations and spend plenty of their time here to enjoy these beautiful places with lots of fun.
At the time of the fireworks, the whole sky blooms with colorful, tiny, shiny sprinkles and gives a soulful view. It becomes light in the dark and all around. And becomes a sign of hope and light in people's lives.
Best places to watch fireworks in Dubai:
There are many places where tourists can go and enjoy watching fireworks.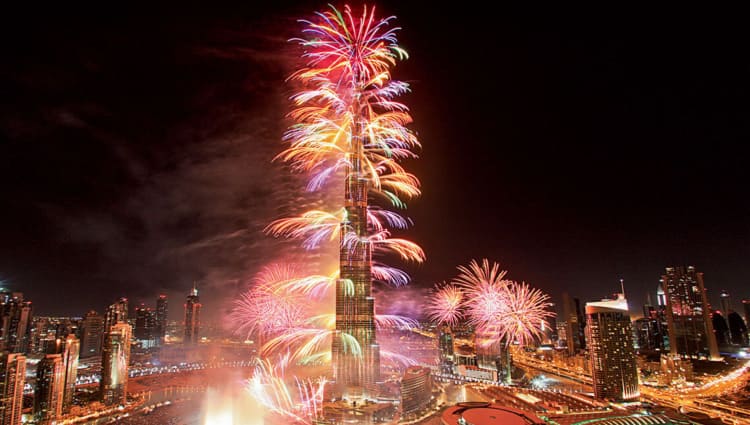 Burj Khalifa is a very famous and well-known place. It is the dream of every common person and new visitor to go there first whenever they visit Dubai. Burj khalifa contains many interesting, fun, and enjoyable facilities in which fireworks are also included.
People can watch fireworks twice a year, firstly at New Year's Night and secondly, at Eid festivals, and somehow, any other special occasion in Dubai. In 2023, Burj khalifa made a record of 2,500 firing directions, 828m of fireworks, 287 firing positions, and 4,000 Watts of lasers at the New Year's Eve firework display.
Burj Al-Arab, located in Jumeirah, is a fully lavished building with a comfortable and luxurious stay. Burj Al-Arab is providing 20% savings on stay for summer holidays inclusive of breakfast, luxury rooms, hermés amenities, and butler service.
People can watch fireworks at Burj Al-Arab on New Year's Eve and on Eid festivals. It provides a very memorable sight with such a huge bundle of fires and lights. People can watch fireworks at 9 pm to so on.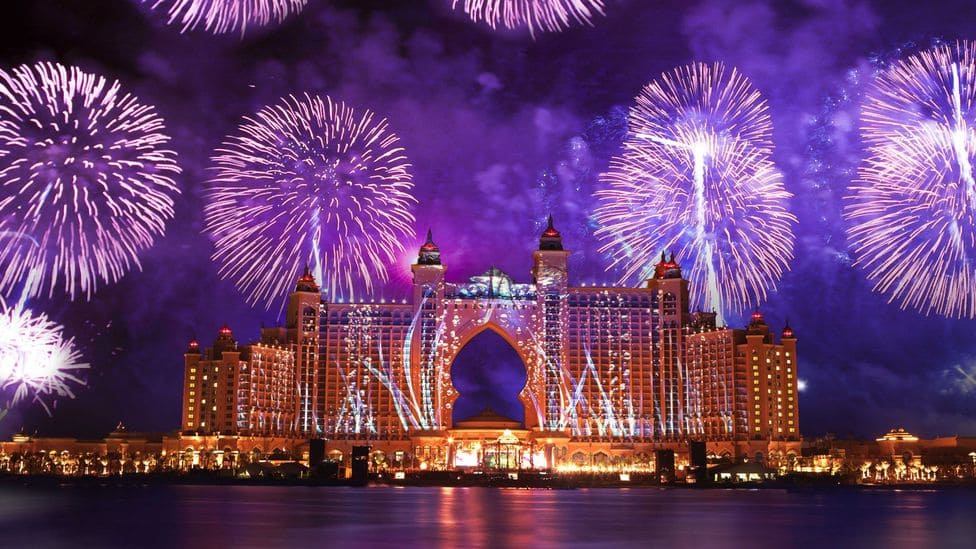 As it is obvious from its name, Palm Jumeirah is an artificial island in tree form. It is an iconic man-made island. It is a very beautiful place to visit which is known for its glitz hotels, posh apartments, and upmarket global restaurants.
During fireworks, it shows marvelous views with brimming dignity and full of zest. It has many attractions for tourists. People can enjoy fireworks from 8 pm onwards on New Year's Eve and on some other special occasions.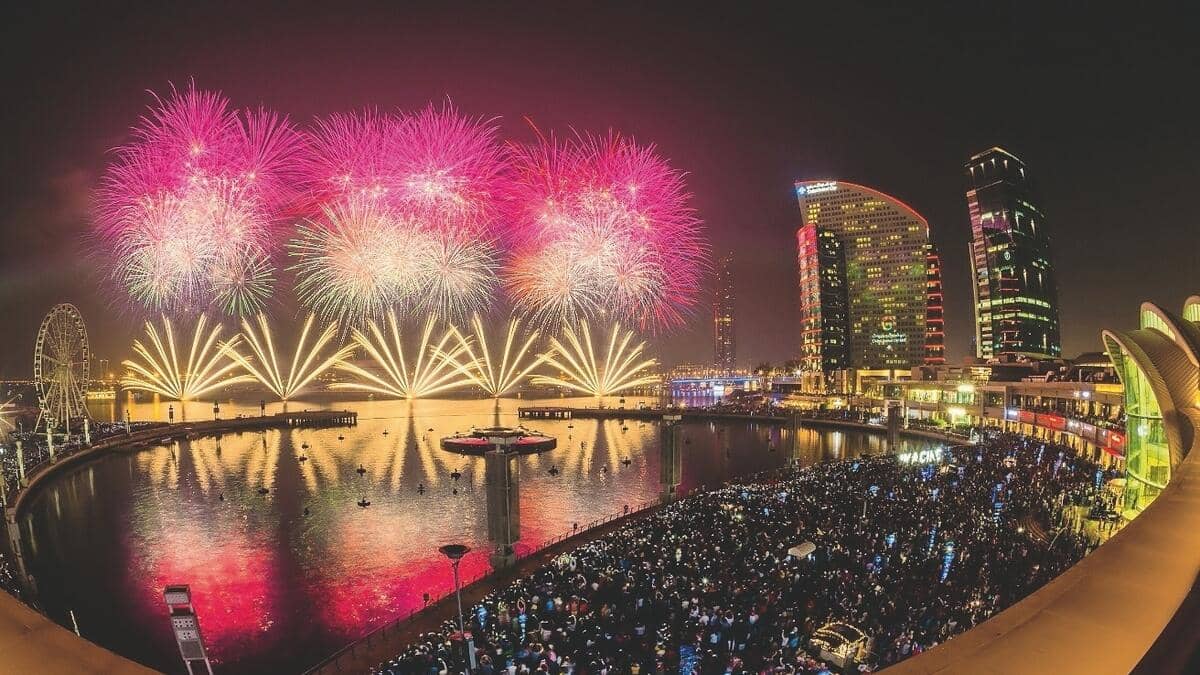 Festival Bay, is a very famous and grand mall in Dubai, UAE. It is an international spot in Dubai Festival City. It contains all kinds of shops, dining, entertainment, signature services, and hotels, and on top, it contains Events, offers, cinema, IMAGINE, festival rewards, kids club, festival city mall card, festival flies, and much more other facilities. Festival Bay is equipped with fully modern technology.
People can buy almost everything here for shopping and many other attractions for entertainment. Fireworks at Dubai Festival Mall can be seen on New Year's Eve, Eid ul Adha, and other special festivals.
Bluewater Island is a man-made island. It is situated 400 meters off the Jumeirah Beach Residence coastline, near Dubai Marina, Dubai, United Arab Emirates. The island includes fun places, entertainment, residents, hospitality, and retail zones. The island is forecast to attract more than 3 million tourists annually. This island can be facilitated with shopping areas, food courts at the ground level of almost every building, and two five-star hotels.
Fireworks can be held there on Eid ul Adha, Eid ul Fitr, and KSA National Day. People can also approach their website link to watch whole years' events happening by time to reach there.
Jumeirah Beach Residence-JBR: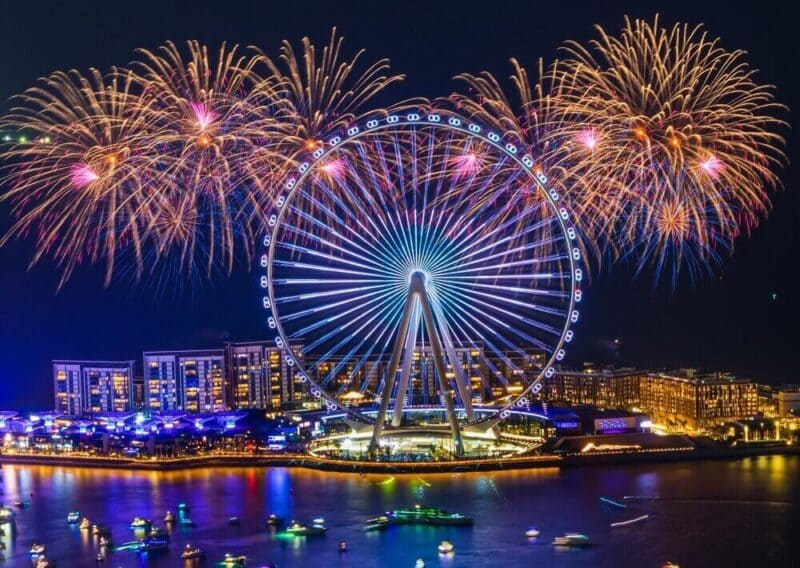 Jumeirah Beach Residence, also known as JBR, is a residential development and contains about 35 residential towers. This place also includes hotels for visitors. It is situated on the coast of the Persian Gulf in Dubai Marina, in Dubai, United Arab Emirates.
This area is common for residents. It also includes some local shops for shopping, restaurants, shuttle service, entertainment, cinemas and local street food etc.
They also held fireworks, offering an incredible view. This event takes place on Eid festivals, National Day, and New Year's Eve.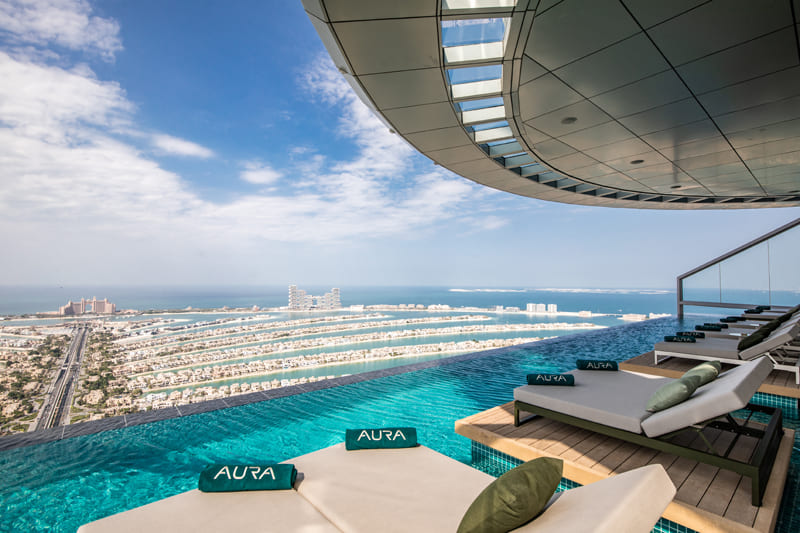 Located on the 5th floor of The Palm Tower in Palm Jumeirah, Dubai, United Arab Emirates, it offers the opportunity to swim in the pool throughout the day and evening. It also includes an indoor lounge, yoga classes, late-night brunch, and so on.
People can watch the fireworks of Palm Jumeirah through the pool. It provides a marvelous sight with a huge bundle of lights in the sky at night.

Click to know about the exciting sales at Dubai Summer Surprises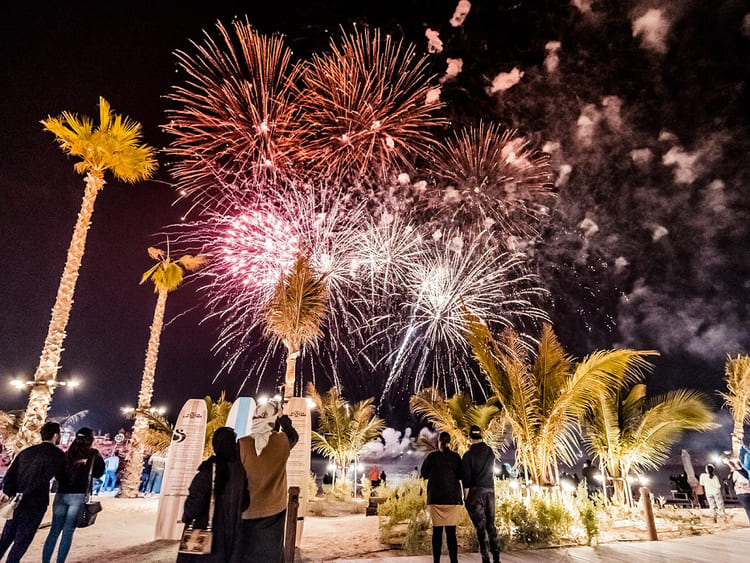 It is a Beach, located between Pearl Jumeirah and Jumeirah Bay, Dubai, United Arab Emirates. La Mer provides wonderful views of both Beaches.
It offers heart-touching scenery, even in summer. It's a very quiet, calm, and pleasant place to enjoy with friends and family. It has a shoreline and a great water park as well. When you go to Dubai, United Arab Emirates, you must visit La Mer. LA Mer is a beautiful beachfront destination to watch the spectacular fireworks.
People can watch fireworks at LA Mer Beach on UAE National Day, Eid festivals, and on New Year's Eve.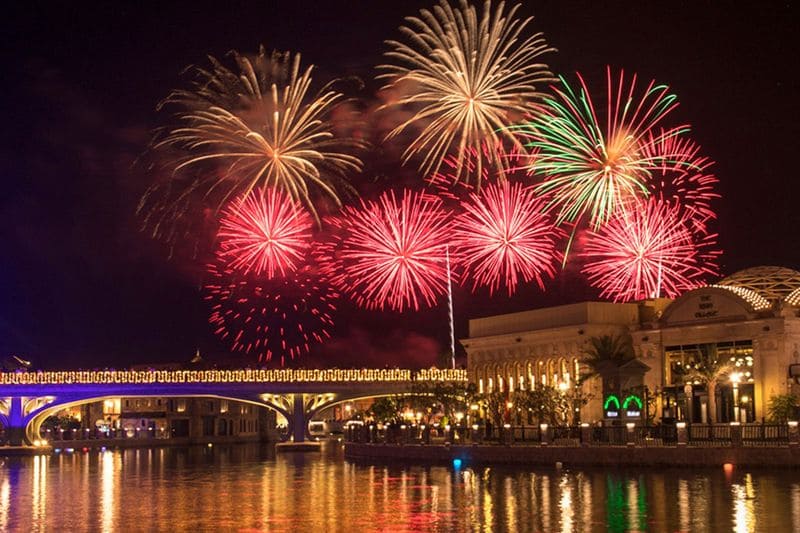 Sheik Zayed Road, opposite Palm Jebel Ali, Dubai, United Arab Emirates, hosts Dubai Parks and Resorts. It is a fun place to visit for tourists which includes hotels, shopping areas, entertainment, Neon Galaxy, parks, play areas, and other spots.
It provides a memorable view of fireworks at Dubai Parks and Resorts. People can enjoy watching fireworks at Eid ul Adha and Eid ul Fitr. On UAE National Day and New Year's Eve, people can also watch the sight.