Overview of Century Mall Dubai
Century Mall was the first largest shopping mall which is located in the heart of Deira city Dubai, which started operating in 2003 and presently has more than two floors. Over 300,000 square feet of space make up one of Dubai's most-known shopping centers. Approximately half of the area is made up of retail outlets. Both locals and tourists gradually started savoring it. By integrating conventional Arabesque style design with modern facilities and a large variety of retail alternatives, the mall delivers a distinctive shopping experience.
Also, the prices at Century Mall Dubai are notably less expensive than those at other malls in Dubai. There is no fee to enter the place for all visitors. You are free to enjoy their splendor and window shop any time you want. However, there are other costs, such as those for parking, games, and other activities, as well as movie tickets.
Let's get into the magnificent mall and explore the numerous stores, eating places, and entertainment venues there.
Opening timing:
10:00 am – 11:00 pm | Sun to Wed
10:00 am – 11:45 pm | Thu to Sat
The main location of Century Mall Dubai:
The location of Dubai Century Mall is Al Wuheida St, Hor Al Anz East, Dubai.
There are numerous methods to get to Century Mall Dubai. You can go to and from this mall from Al Mamzar beside AL Shabab Club, using either public transportation or a private taxi. Al Qiyadah Metro Station is the closest metro station where you can choose a metro. Both ride from the metro to get there in roughly 20 minutes each.
Facilities offered at Century Mall Dubai
Make a Shop-to-Stop List:
If you decide to go shopping at Century Mall, be careful to dress appropriately so as not to offend anyone's religious sensibilities.

To have a pleasant shopping experience, check online for the most recent specials and discounts at different stores before you visit.

Shop at one of the numerous pharmacies in the mall to discover the greatest medical or healthcare supplies.

Purchase the most fashionable apparel and accessories from the mall's top retailers.
Salon, Beauty Spa, and Nail Bar Services inside Century Mall Dubai:
The Nail Salon, Beauty Spa is a much-needed service for females. There are many nail and spa beauty salon services located inside Dubai's Century Mall. It provides all the standard services, such as skincare, waxing, and haircuts.
The treatment will assist in rehydrating the skin by replenishing the moisture lost while we fly, which causes it to become excessively dry. Since the weather is hot, drinking lots of water is also beneficial.
For male grooming salons, Gabiano is a barbershop that offers haircuts, beard care instructions, and other services. Many males also require skin care.
Open Dining Restaurants:
Doors Freestyle Grill-Streak house

restaurant, it is an excellent idea to choose this if you want entertainment while eating. The culinary staff will display live cooking of the Beef Butterfall Steak, one of the restaurant's signature dishes, at a live cooking station that will be set up in the dining establishment's outside area. The guest will be served the dish along with five other items after the live cooking is over.

SOL Sky Bar

, which is on the seventh floor of Canopy by Hilton Dubai Al Seef, offers expansive views of the city from Dubai Creekside. SOL Sky Bar features a fresh and trendy vibe surrounded by modern design accents and is known for its floral and fruity cocktails and incredibly calm ambiance.

Purani Dilli Restaurant

offers a traditional ambiance with a wide range of signature dishes, including mouth-watering Iconic Butter Chicken, Mutton Rogan Josh, and Sheekh Kebabs. They ensure that each dish is bursting freshest and flavorful.

Celebrity chef Daniel Boulud's

Brasserie Boulud

creates a small piece of France in Sofitel Dubai, bringing the true sense of "gastronomie francaise" to Dubai. an obelisk. With us, you can discover French contemporary cuisine that is founded in history and has dishes that are freshly prepared according to the season to create an authentic and mouthwatering experience

.

At

Sky Lounge Level 43,

Have a seat down at the bar and let our skilled mixologists create a delectable concoction for you using only the best ingredients and top-quality spirits. Or, try one of our gourmet bar nibbles, which are influenced by cuisines around the world and created to tempt your palate.
Food Courts and Eateries at Century Mall Dubai: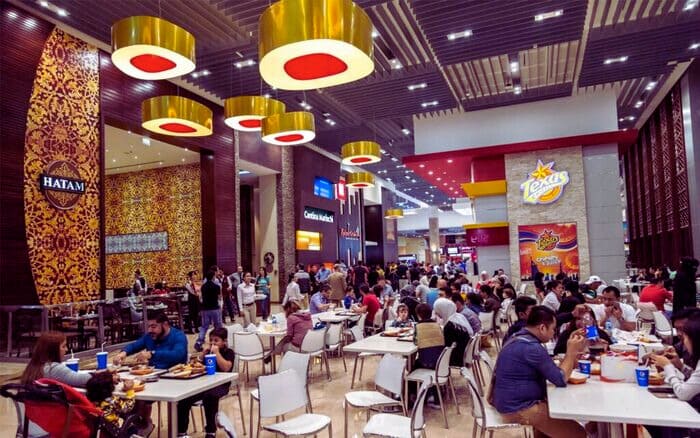 In the mall, there is a huge variety of food courts with some international eateries and cuisines are present. Just eat and drink quick snacks from here, Pizza Hut, Baskin Robins, Chicking, KFC, Ohana Café, Sweet and Warpz, and many more.
3 Nifty Cinemas:
A true cinema lover's heaven Century City Mall's theater. Three cool cinemas are located here. High-end brown leather seats, a completely digital projection system, top-tier Dolby Atmos 7.1 surround sound, and a direct link to the movie lounge are all highlights of the Premier One. The premier multiplex is the ultimate paradise for those who love movies, not to mention the enormous free bag of popcorn and large drinks.
Kids Amusement Park: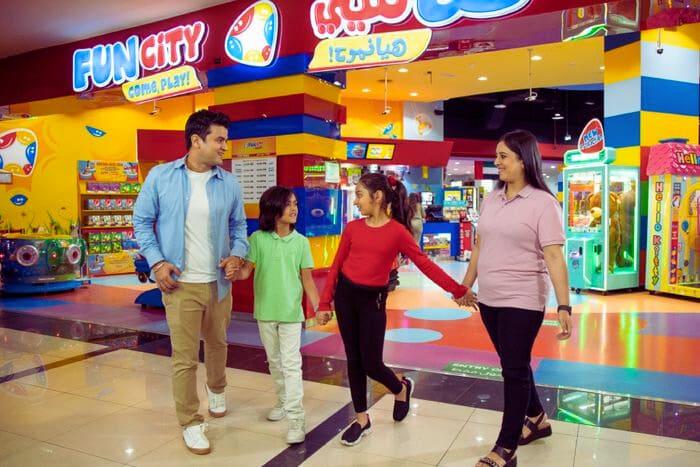 The Jungle Bungle, Century Mall's own amusement park and one of the unique things the shopping center can offer its patrons, will inevitably be the most fascinating area of the mall for kids. Jungle Bungle aims to engage kids while encouraging interactive learning. Families can choose which sessions their children will attend before leaving them here for a few hours.
Activities for Kids at Fun City:
Children looking for amusement and laughter should go to Fun City. Fun City is situated mall's first floor. With its main attractions like Play Zone, Bumper Cars, Jumbo tour, Happy Swing, and Beach Safari, it will undoubtedly make your kids laugh out loud and put hundreds of smiles on their faces. It goes without saying that parents also enjoy most of these games.
Fun City provides many facilities some of which are:
Customer service counters

Maps and directories for malls

ATMs and machines for paying bills through Etisalat

Drying out

Online café

Strollers and baby buggies

Restrooms for infants and chapels

Parked in a valet
Private Hotels and Resorts: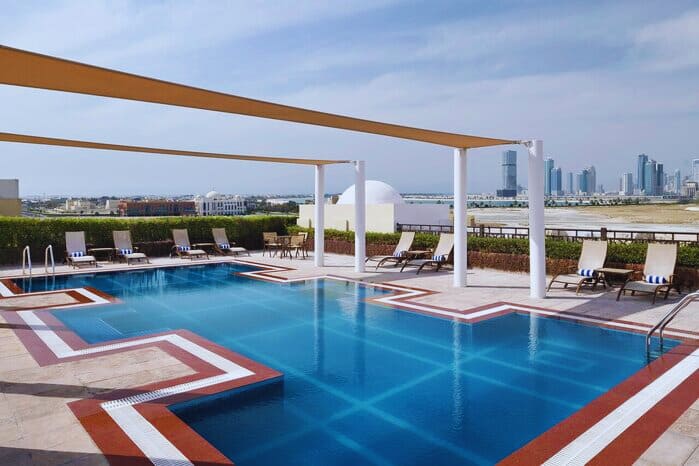 Some popular budget-friendly hotels near Century Mall Dubai. Ideal for Families and Couples' with good availability, amazing ambiance, and great accommodation.
Atlantis Resort:
Without a doubt, one of the most iconic resorts in the world is Atlantis. Around Dubai's artificial island, The Palm, also known as the eighth wonder of the world, the builders constructed Atlantis. The resort was designed by the architects to incorporate elements of Atlantis and Arabian culture. Since the hotel towers over the Dubai landscape, it can be seen from most sites in Dubai. As a result, the hotel offers absolutely mesmerizing views of Dubai's skyline.
Armani Hotel:
This hotel was meticulously designed by famous fashion designer Giorgio Armani, and it offers an amazing fusion of Italian, Indian, Japanese, Mediterranean, and other cuisines. Additionally, you should take a plunge in the outdoor pool that wraps around a Burj Khalifa corner if you want to enjoy the scorching Dubai sun.
Some best hotel recommendations:
Some best hotel recommendations are listed down. You can check availability and book online:
Movenpick Hotel Apartment Al Mamzar Dubai

Asiana Hotel Al Rigga

City Avenue Hotel

Emirates Stars Hotel Apartments Dubai

Fortune Pearl Hotel Deira

Royal Tulip Hotel Deira

Lavender Hotel Al Nahda Dubai

Al Manar Deluxe Hotel Apartment
Conclusion
Despite not being as impressive as the malls in Downtown Dubai, Century Mall is still a really pleasant location. Going there would also be a fantastic excuse to check out the brand-new Al Mamzar Park, a 10-minute drive away from Sharjah. Soon, there will be a large number of hotels in the neighborhood, providing travelers with even more reasons to check out this fantastic, brand-new part of Dubai.