Al Wathba Salt Lake is a man-made lake. People also refer it to as Salt Lake Abu Dhabi. Intentionally releasing water into the desert creates the lake. Underground pipes release water into the hot, desert, where it evaporates and leaves behind dense salt crystals that eventually crystallize.
It tends to take years for the enormous salt pads that make up the lake's beautiful stepping-stone feature to gradually grow. The naturally occurring salt and mineral deposits beneath the surface are only made visible by the artificially fed water, which somehow finds a way to break through them to create these stunning crystalline salt pads.
Quick overview of Al Wathba Salt Lake:
As one of the most attractive locations to visit in Abu Dhabi, this surreal view has rapidly attracted a lot of attention. Underneath evaporative water into the hot, desert, which eventually crystallizes into massive salt deposits. When combined, still water and salt pans, also known as Sabka, create an amazing contrast of white and emerald tones that contrast sharply with a background of dusty, sand-toned colors. In Abu Dhabi Salt Lake, the combination of the area's pre-existing mineral reserves and the coastal arid climate caused the salt pans to emerge quickly, although salt pans typically take years to develop and form.
The Mystery of Al Wathba Salt Lake:
According to John Burt, an academic administrator in science at New York University Abu Dhabi, the lakes' formation was caused by the use of water flow that was supplied into the desert. Salt crystals with a sharp edge are available; they started to form as the water evaporated. After a certain amount of time, each salt gradually developed.
This eye-catching holiday destination is sure to be a success for some time to come, even if the explanation of how this internet-based oddity came to be doesn't impress many powerful people.
Where Salt Lake Abu Dhabi is and how to get there?
The Al Wathba area wetland reserve west of Abu Dhabi is linked to this lake, which is located in Al Bihouth. You can reach the local community by car in thirty minutes from the international airport in Abu Dhabi and forty minutes from Abu Dhabi Corniche Road. You have to drive from a gleaming city to desert dunes and the fabled long lake of emerald to experience the shifting landscape. Head west out of the city on the E65 or E30 highway. On a digital map, the exact location coordinates are 5G52+HX Abu Dhabi.
Read to Know: Hatta Dam- beautiful tourist attraction in Dubai
Top Attractions Near Abu Dhabi's Salt Lake:
You will find yourself in a striking environment that seems to be very different from the Abu Dhabi metropolis when you visit Al Wathba Long Salt Lake. Take full advantage of this out-of-the-way vacation to escape the city vibes by making time to visit the surrounding locations as well. You may look into:
Old Fossil Dunes:
Discover a strange environment with diverse rock formations that have been sculpted by natural forces throughout time to resemble a lunar landscape. The Fossil Dunes and Al Wathba Long Salt Lake are a fantastic combo for a day trip from Abu Dhabi City, as they are only ten kilometers apart.
Wetland Reserve Al Wathba: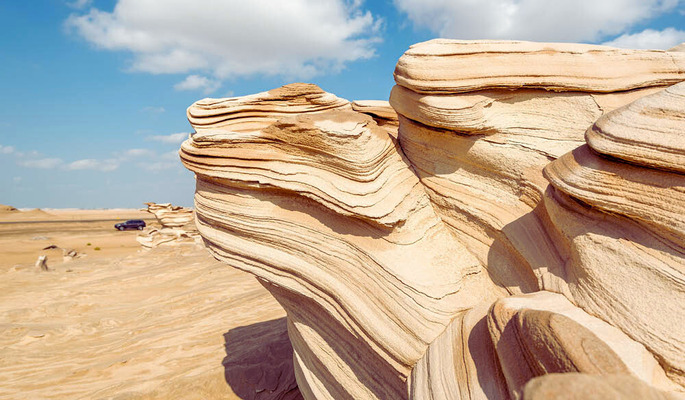 When visiting Abu Dhabi, this natural reserve the country's first officially recognized protected area is a great spot to get a taste of the local fauna. The nature paths at this destination, roughly a forty-minute drive from Long Salt Lake, offer opportunities for bird-watching and flamingo viewing. The event's venue is only open in the fall and winter, but it offers free entrance.
Emirates National Auto Museum:
Al Dhafra, just a 20-minute drive from Salt Lake Abu Dhabi, is dedicated to a futuristic car museum. It's located on the E56 Liwa-Abu Dhabi Road. This amazing collection features over 200 classic vehicles that were once the pride of the road. The museum is open Monday through Saturday from 9 am to 5 pm. Each person must pay an admission fee of approximately AED 50.
Read Also: Al Nahda Park Sharjah
Tourist Fun Activities to Do at Al Wathba Salt Lake:
BBQ + Overnight camp:
From Abu Dhabi, a lot of families camp here overnight. Setting up a grill, spending time with loved ones, and getting back to nature all come together in this perfect ambiance.
Click some memorable photos:
One of the greatest spots in Abu Dhabi to take some photos fit for Instagram is this one. You can take pictures of the breathtaking views of the azure lake and the salty white lily pad formations that will make you shiver every time you see them in the future. A great location for selfies as well!
Enjoy Sunrise and Sunset:
Watching the sunrise in the morning and set in the evening is perfect from this location.
Watch desert Birds species:
Many different species of desert birds frequent the lake daily. As you unwind by the lake, take in the scenery.
Take a desert Safari Ride:
Abu Dhabi's desert area, which is near the artificial trenches for short is the perfect place to go on an exciting desert safari. To get the most out of the trip, make sure you make your reservations with a reputable desert safari company.
Great place for a picnic with family:
Take your kids to the Al Wathba Salt Lake for a nature escape after packing your picnic baskets. The kids will be having the time of their lives, running, strolling, or bouncing up and down the brackish formations as the adults laze around, making the most of the entire crucial day.
The best time to visit Al Wathba Salt Lake:
The best season to visit Salt Lake Abu Dhabi is in the winter. You can enjoy the surroundings in comfortable temperatures. However, it is open to the public 24 hours a day, 7 days a week. Go early in the morning to enjoy the cool morning air and escape the heat if you won't be able to make it there during the winter.
Before visiting this lake, keep in mind these points:
You must not break any of the salt plates in the lake.

Make sure you have the necessary licenses if you intend to fly drones in this area.

Keep rubbish away from the water.

Be sure to bring garbage bags with you.

Though the salt can be harsh and cause cuts to the skin, take care not to harm your feet.
Also Visit: Dubai Frame Inside-A great architectural marvel
Conclusion:
This salt lake is a favorite tourist destination because of its stunning beauty. Here, you can engage in a variety of activities and enjoy picnics with loved ones. We have provided you with the knowledge, so hopefully, you will be prepared for what to expect at this amazing location. Plan your journey as soon as possible.