How to check your visa fine in UAE is important to know if you are on a visit visa or any other visa category to avoid any difficulty if you overstay there. Dubai is an attractive destination for travelers due to its unique attractions, booming business communities, rich culture, and delectable cuisine. Visitors from all over the world come here since it is a major international travel destination. The Dubai e-visa is a revolutionary electronic document that allows hassle-free access to an amazing travel experience in the United Arab Emirates.
Travelers may fully experience the city's popularity and make stronger cherished recollections that endure with them throughout their journey with regard to the clear and quick necessary requirements and application for online Dubai visa services.
Plenty of issues might occur due to overstaying in the UAE. To avoid any difficulty you should be informed earlier of how to check fine in the UAE. This is due to the requirement that the UAE government fines visitors who remain in the country after their visa has expired. Because of this, it's crucial to think about when your visa will expire and whether there will be any grace periods.
If you're a new expat in UAE and struggling to understand visa rules and overstay fines, no need to worry more we will completely guide you on how to check your visa fine in UAE.
Read to know: How to remove travel ban in UAE?
Latest News and Updates – Overstay Fine in UAE
According to a recent announcement by the UAE government, visitors to Dubai on visit visas will no longer be given a grace period after their visas expire. Therefore, they must immediately leave the country before the end date shown on their visas, which corresponds to their allowed period of stay.
Overstays occur when tourists or visitors are unable to book a flight within their grace period or suffer a delay for some other cause. It also occurs when people lose their jobs and are unable to search for another job that would allow them to continue living in the UAE.
The overstay fine, which must be paid before the individual can get an exit permit and leave the country, will be assessed on those who violate this rule.
How to check my visa fine in UAE online?
You can check your visa fine in UAE by following any of these methods.
Step by Step process to check and pay visa fine from the ICP website: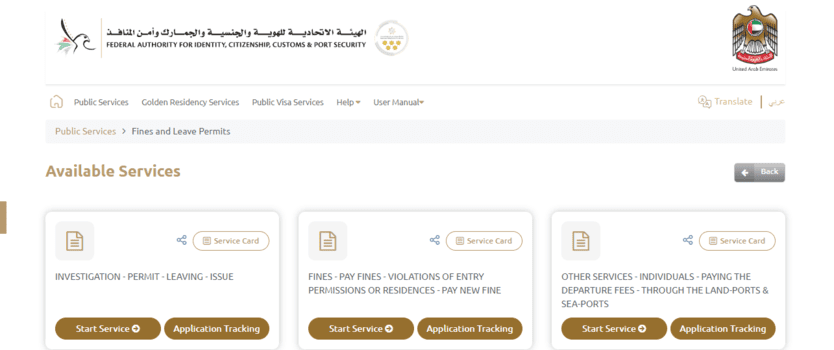 If you have received an overstay fine, you will be able to pay it through the ICP visa fine check. You need to follow the instructions we'll give you below in this situation:
Log on to the ICP smart services website.

Click on the chat icon that you will find in the lower right corner of your screen.

After that, you must select "Request Services."

Select "Pay Fine" or "Write the Service Number."

After that, you must enter your unified number.

Enter your birthdate.

You will be able to access the fine information for overstaying your resident visa in the UAE as well as the payment link.

Then press that link.

Click "Next" after carefully examining all the small print and payment information.

To end the procedure, choose "Pay."
The ICP will send you a notification with the transaction number if you make the payment correctly, in that condition. This way, you may check your overstay fine in the UAE, pay it, and have it removed from the system.
Step by Step process to check visa fine from the GDRFA website: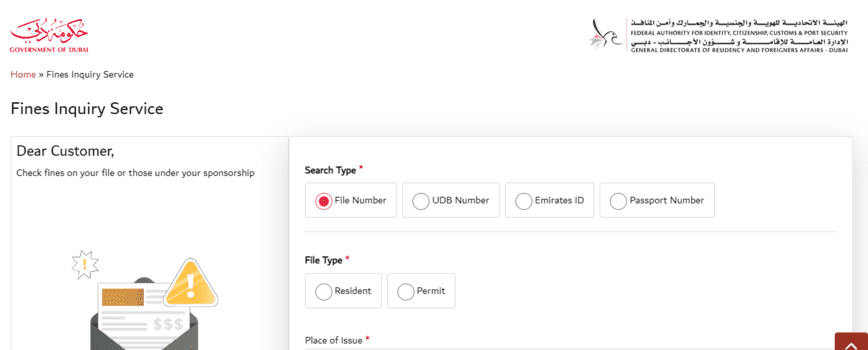 On the GDRFA website, you can check your overstay visa fine in the UAE by following these steps:
Go to the GDRFA website.
Select the services option.
Now look for the section related to visa services.

Here fill out all the information required to check the visa fine and pay it.

Resolve the CAPTCHA that the system will ask you to do.

Next, press the Send button.
You'll be able to verify your visa fine and see the amount once you've finished the steps mentioned above.
Checking visa fine by Emirates website:
The "expiry date" normally appears just after the visa number on the E-visa copy you obtained through email or from your travel agent.
There will be penalties if you overstay your visa in Dubai.

By entering your passport number on the Emirates website, you can determine whether a fine has been imposed.

The list of all penalties that were levied against you as well as instructions on how to pay them will then be available for you to view.
Overstay Grace period days allowed in UAE: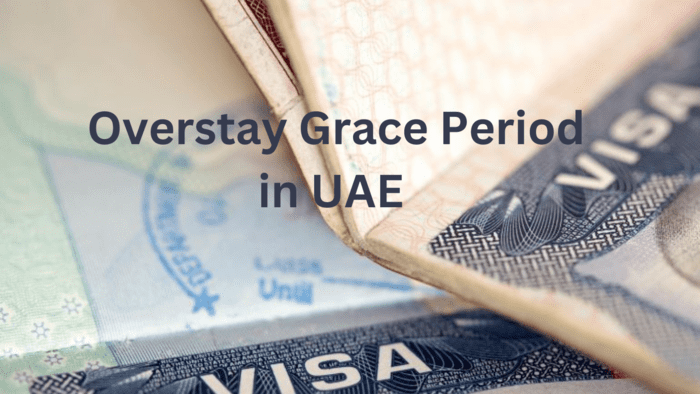 For those on a visitor visa or a tourist visa, the exemption duration is 10 days. If the visa holder overstays their visit without leaving the country or extends their stay during this several-day grace period, they will be fined the following:
For the initial day of overstaying, pay 200 AED.

For the primary one day of overstaying, it costs 200 AED.

The processing fee will be 100 AED.
After the visa expires, holders of UAE resident visas are given a few days of convenience. They are allowed to change their status, obtain a new residence visa, or exit within this time. During the no-hassle time span, there are no fines charged. Only when the grace period is passed, fines will become applicable, and they will include:
For the first day of exceeding, pay 125 AED.

From the second day on, there is a 25 AED fee for overstaying more days.

If you stay more than six months, you must pay 50 AED every day.

If more than one year has passed, 100 AED each day.
Do you know How to check Dubai visa status?
How To Check Overstay Visa Fine in UAE for Residence Visa Holders:
First, you need to verify your visa sticker if you've recently renewed or submitted for a resident visa. If not, follow these instructions to access your visa through the official website.
Check the expiration date on your Emirates ID to make sure it matches the end of your visa.

To view your visa information and expiration date, go to the ICP website and enter your passport number or Emirates ID number along with your birthdate.

No matter which Emirate issued your visa, you can utilize the websites of these two immigration authorities to review the small print on your visa:

Website for the General Directorate of Residency and Foreigners Affairs in Dubai

For visas issued in all other emirates, including Abu Dhabi, Sharjah, Ajman, Ras Al Khaimah, Umm Al Quwain, and Fujairah v

isit the ICP website.
For a hassle-free visit in the UAE, staying informed on your visa status and any potential fines is crucial.
How to pay an overstay fine last minute before departing the country:
The overstay fine for visitor and resident visas can also be paid in different ways. We advise using the online system instead because they need more of your time. Other locations where fines can be paid are:
Airports, borders, and ports:
Pay your overstay fine before leaving the UAE at border crossings or airports before boarding your flight. The ports also accept payment in the same manner.
Offices for immigration, online services, and typing services:
Online payment through the site is the most effective and practical way to pay the fine. As an alternative, you could pay your fines at nearby immigration offices.
Read to know: How to pay for parking in Dubai?
Conclusion:
If you overstay your visa in the UAE, you risk paying fines and facing possible legal penalties. Checking your visa fine in UAE on a regular basis is crucial for compliance and avoiding issues. You can quickly get the information you need and pay any outstanding fines by using the official government websites or approved services. To guarantee a smooth and comfortable visit, never forget to abide by UAE immigration laws and schedule your stay appropriately.