Armenia is a small country located at the crossroads of Europe and Asia between the Black Sea and the Caspian Sea. Armenia's beautiful landscapes lure a large number of tourists each year with its fascinating history, dynamic culture, and old traditions. Armenia, which is only three hours from the UAE and has snow-capped mountains and ancient archaeological sites, is the most popular travel destination. Armenia visa for UAE residents is not required if they have Emirati passports.
If we make a comparison between both countries, the United Arab Emirates' area is roughly 83,600 km2 (32,278 sq mi), but Armenia's area is roughly 28,470 km2 (10,992 sq mi). The United Arab Emirates is therefore 2.94 times greater than Armenia.
In this article, we'll guide you through the process of requesting an online visa process for Armenia visa for UAE residents.
Read to know: Azad Visa Dubai
Announcements of Armenia Visa for UAE residents:
UAE is one of the nations that have been unilaterally exempted from Armenia visa for UAE residents requirements. As a result, UAE citizens and residents who also have Emirati passports do not need to have a visa to enter Armenia. All UAE passport holders, whether they carry a diplomatic, regular, service, special, or other sort of travel document, are included in this. Up to 180 days a year are permitted for their residence in Armenia.
You do not need to apply for an Armenia visa if you are a resident of the UAE because you are already allowed to travel. Even though you don't require a visa, you still need to meet a few necessary requirements for the trip.
As a resident of the UAE, you must meet the following conditions and provide the documents that follow in order to travel to Armenia:
Upon arrival in Armenia, all UAE nationals must have a passport with a minimum remaining validity of six months.

The immigration agents at the airport will need to see your tickets in order to verify your trip.

Confirmed in and out flight tickets.

Confirmed hotel reservations in Armenia
How to Apply for Armenia E-visa for UAE residents:
If you have a valid Emirates ID, congrats you are eligible for a visa on arrival in Armenia. Thanks to the Armenian government has simplified the visa application process online for UAE residents.
 You can apply for an online official Armenia e-visa website

evisa.mfa.am

using your basic passport, contact, and travel information.

Upload a recent passport-sized photo.

Upload a copy of your passport.

At least 3 business days before the desired date of arrival, you must apply for an Armenia eVisa.

The Armenia eVisa enables UAE residents to visit Armenia for a maximum of 21 or 120 days. You can choose to apply a single entry or multiple entries.

The travelers are encouraged to print a copy of the Armenia visa before leaving UAE.

E version once they arrive. The visa will be emailed to the provided email address.
How Armenia Evisa will save your time?
Many of the UAE tourists who traveled to Armenia might face both of these situations during travel:
Waiting in long queues, struggling to obtain a visa, and the need to present documentary proof, when they arrive at the Armenia airport.

If you want to save time, we recommend applying for an eVisa since it simplifies the immigration process. To get entrance, all you need to do is provide a valid passport and a printed visa.
Short-term and long-term eVisa cost:
The following travelers may only use this documentation if they are coming to Armenia for the following reasons:
Vacations

Business meeting or conference

Education

For medical treatment

Family meetup
On-arrival visa fee is around 29 AED ($8) which is not refundable, and the Armenian government allows tourists to stay up to 21 days.
Up to 21 days for short stay cost will be 30 AED ($8)
Up to 120 days for a long stay cost will be 134 AED ($36)
Visa-free travel countries for UAE residents: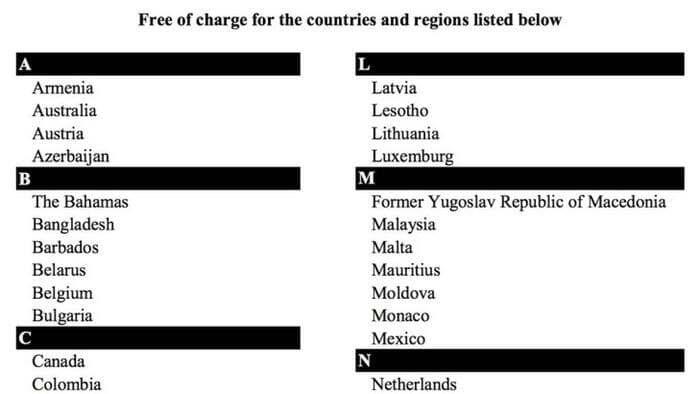 According to the visa-free entry list issued by the UAE government, more than 40 nationalities, including those from the UAE, are eligible to visit Armenia without a visa.
An agreement about visa-free travel norms for citizens of the two countries has been stuck between the UAE and Armenia. Residents of the UAE having any of the following passports may enter Armenia without a visa and stay there for a total of 180 days a year.
Some additional countries that allow visa-free entrance for UAE citizens are listed below.
Armenia
Residents of the UAE can travel to Armenia for a distinctive mix of ancient history and stunning landscapes. This alluring nation provides visas on arrival with a reasonable fee and a maximum stay of 120 days. A few of finds fulfillment that await travelers to Armenia include exploring the spectacular monasteries of Tatev and Geghard, wandering through the energetic streets of Yerevan, and trekking in the beautiful Dilijan National Park.
Read to know: How to apply for a Canada visa from Dubai?
Georgia
Georgia is a top vacation place for residents of the United Arab Emirates because of its beautiful scenery, historic cities, and welcoming people. For UAE citizens, this charming nation offers a 90-day on-arrival visa. It gives them plenty of time to experience its vibrant culture, savor delectable food, and take in stunning mountain landscapes.
Azerbaijan
Azerbaijan offers a one-month tourist visa upon arrival at its airports to UAE residents with residency visas. As a result, tourists may explore Baku's idyllic Old City, take in the surreal scenery of Gobustan National Park, and get a taste of the warm Azerbaijani hospitality.
Montenegro
Montenegro is a wonderful place to visit with its breathtaking coastline, quaint medieval villages, and scenic mountains. Residents of the UAE may enter the country without a visa and remain for up to 90 days during a period of six months. Whether taking a break on Budva's stunning beaches or exploring Durmitor National Park, Montenegro offers the ideal fusion of natural beauty with a deep tradition of culture.
Maldives
The Maldives, known for its azure oceans, white sand beaches, and opulent resorts, is a popular dream vacation spot. Residents of the UAE can take pleasure in the fact that a 30-day visa is issued upon arrival. This makes it possible to enjoy a truly perfect getaway in this tropical haven, where one may swim among vivid coral reefs and bask in the sun in complete peace.
Seychelles
Another alluring location in the Indian Ocean is Seychelles which grants UAE citizens a visa on arrival. To obtain this, they should have a return ticket, proof of prearranged lodging, and enough money to cover their expenses. Seychelles is a sanctuary for nature lovers and beach lovers because of its beautiful beaches, pristine oceans, and diverse marine life. It is an adventure unlike any other to explore its pristine nature preserves, like Vallée de Mai and Aldabra Atoll.
Nepal
Nepal provides UAE citizens with a visa on arrival if you're looking for an exciting trip. Travelers can select the option that best fits their travel plans from the available durations of 15, 30, and 90 days. Nepal guarantees an amazing vacation, whether trekking in the magnificent Himalayas, discovering old temples in Kathmandu, or engaging with the lively local culture.
Closing Words:
After reading all the information about Armenia visa for UAE residents. During your trip, you might meet some wonderful people who will look forward to your return to their country and become great friends. The most important aspects of the article are those that exemplify Armenians' generosity and friendliness. Armenians are amiable, gregarious individuals who go out of their way to make foreign guests feel at home. Since many Armenians are fluent in both English and Russian, communication won't be a problem. Hopefully, you will enjoy your Armenia trip and come back with collecting memories.
Read to know: How to check Dubai visa status