Kite Beach is one of the best public beaches in Dubai that provides a blend of adventure, relaxation, and beauty. Beaches in Dubai, including Kite Beach, are considered to be the most breathtaking in the world. Kite Beach is a gorgeous stretch of white sand, crystal blue waters, and spectacular vistas that is situated in Dubai's Al Mamzar neighborhood. This location is ideal for relaxing, soaking in the sun, and enjoying recreational activities. The whole guide to enjoy the best time at Kite Beach is provided here.
This coastal haven will fulfill your demands and beyond your expectations, whether you're looking for a tranquil holiday or an exciting trip. It is possible to guarantee a secure and pleasurable visit to Kite Beach by carefully organizing your vacation, making use of the wealth of resources at your disposal, and according to local regulations. This is a place you won't soon forget because of its breathtaking surroundings, wide variety of activities, and cozy, welcoming atmosphere.
Spend quality time with your family at Kite Beach:
Dubai's Kite Beach is a breathtaking location that provides a special fusion of adventure, leisure, and natural beauty. As the name suggests, this beach is not only heaven for kite surfers but adventure seekers can also enjoy various beach and water activities there as it is one of the famous locations for water sports in Dubai to make their visit memorable. 
If your main goal is kite surfing, then don't worry because advanced amenities and gear are available at the beach to meet the demands of both expert and beginner kitesurfers. While taking in the breathtaking vistas of the Arabian Gulf, visitors may engage in a variety of activities like beach volleyball, paddleboarding, and kitesurfing. The beach offers a memorable day, whether you're looking for a thrilling day or a peaceful getaway.
Recreational Activities at Kite Beach: 
More than just a lovely beach day is available at Kite Beach. There are many facilities and entertainment options to keep tourists engaged. There are lots of sun loungers accessible for individuals who want to unwind and enjoy the sun in luxury. Water sports like windsurfing, kite surfing, kayaking, and stand-up paddle boarding are also available if you're looking for an adventurous day. Numerous eateries and cafés that serve a range of cuisines may also be found in the area. Salt Kite Beach is prominent among them serving a variety of delicious burgers and much more.
A great many options for accommodation may be found near the beach, a well-liked tourist spot. There are several options available to visitors, such as pleasant bed & breakfasts, affordable hotels, and opulent resorts.
How to get there? 
Kite Beach is easily reached by bus, car, and taxi. You can go in your personal car since the parking lot is available here. You can consider public buses as well. People with disabilities can also reach the beach using ramps and handicapped parking. No nearby metro station is present there.
Also Read: Bungee Jumping Dubai
Must things to do at Kite Beach Dubai:
At the beach, there are lots of activities available. Something is available for everyone, including beach games and water sports. More importantly, visitors can unwind in the sun, wander along the beach, and take in the breathtaking scenery. A wide range of cuisines are served in the many restaurants and cafés that can be found in the vicinity.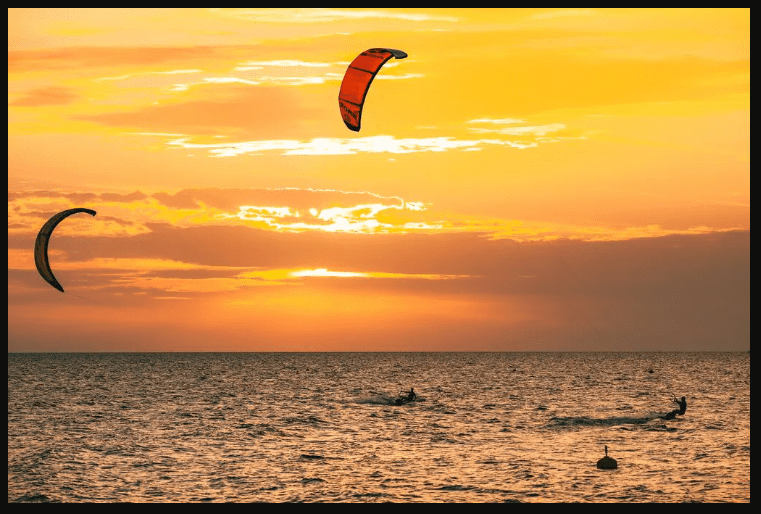 Enjoy the sound of the waves and the last of the day's light as you take in a stunning sunset from the beach. The beautiful view of Burj Al Arab adds to the beauty of the surroundings.
Kite Beach has much to offer everyone, regardless of their interests. The location is great for unwinding and enjoying leisure time due to its abundant natural beauty and diverse array of activities.
One of the finest spots in Dubai for practicing kite flying is Kite Beach. The beach is a great option for both amateur and professional kitesurfers because it has top-notch amenities and gear, such as boards, kites, and safety gear.
Enjoy the sights while paddling around the harbor on a paddleboard.
Playing beach volleyball with friends and family is also a great option especially if you are a sports lover and active person.
Take a kayak rental and enjoy the breathtaking scenery and fauna as you paddle down the shore.
Explore the area's colorful marine life by snorkeling in the crystal-clear waters.
Looking out for the different bird species that live at the beach, such as herons, gulls, and pelicans is also a source of pleasure.
Also Read: Popular traditional sports in UAE
When is it best month to Visit Kite Beach?
Different times of the year are suitable for different people depending on their choices, hobbies, and tastes. The sunny months from June to August are the peak season for swimming, tanning, and water sports. But since it's also the busiest time of year, it would be more crowded and costs increase in this season. 
If you want to avoid rush and crowds, consider going during the shoulder seasons in the spring and fall when the weather is still great and there are fewer people around. The beach is frequently calmer in the winter, and guests can enjoy kite surfing and other activities in the colder, windier weather. Winter is also a great season to come especially if you want to soak in sun.
Whatever time of year you choose to visit, Kite Beach is a stunning and thrilling location that will provide lifelong memories.
Salt Kite Beach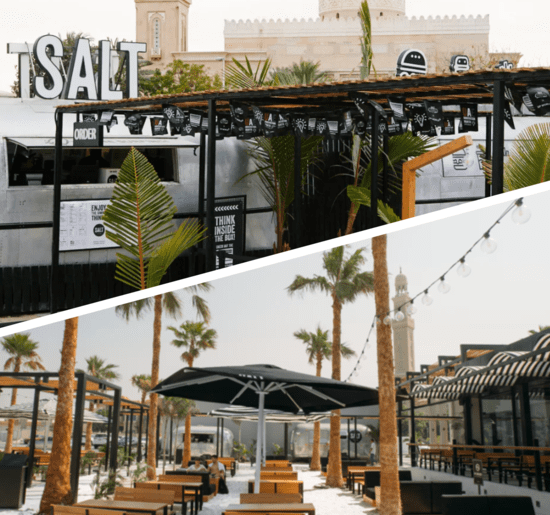 One of the most popular food trucks in the city has transformed into a permanent burger restaurant called Salt, which is situated on Kite Beach and serves delicious shakes and sliders. Now permanently located at Kite Beach Dubai, Salt has The Beach House, an air-conditioned inside deck.
You'll know you've arrived when you see the lines and the instantly welcoming atmosphere reminiscent of a resort. On the menu, the famous burger selections are spicy wagyu, wagyu beef, and a chicken burger stuffed with Cheetos. Trying to hold back is worthless. It would definitely be a great choice to take lotus ice cream after eating a burger from here. 
Salt Kite Beach is very famous and is frequently visited by visitors who come to kite beach. After spending a busy beach day, people come here to enjoy the delicious food served here that satisfies their cravings.
Safety and Regulations:
Kite Beach is a well-organized and safe coastline. To ensure the safety of visitors, the beach is routinely checked and lifeguards are on duty around the clock. Rules and regulations are observed to avoid any kind of inconvenience. The use of personal watercraft is forbidden, and swimming is only permitted in places that have been designated for that purpose. 
Suggestions for a Fun and Safe Visit to Kite Beach:
Everyone should obey the rules and regulations of water sports and avoid littering on the beach to spend a hassle-free and enjoyable day.
For safety purposes, visitors should be aware of the safety measures and should take precautionary measures like applying sunscreen and drinking plenty of water when in the sun. Plan your activities and schedule your day before going to the beach to make the most of your trip. 
Arrive at the location on time to spend maximum time there and leave some time to enjoy the beautiful sunset view. By wisely planning the day and following the instructions you can ensure a fun-filled and secure vacation to Kite Beach Dubai.
Recommended: Most popular breakfast places in Dubai
Conclusion: 
Kite Beach is a stunning beach in Dubai to spend a worry-free beach day. There is something for everyone whether someone wants to relax in the sun or involve in sports. The beach is well-maintained and holds various amenities. Kite Beach Dubai is the perfect destination whether you want a relaxing day or an adventurous day of watersports.